More and more Ukrainians are trying to live a healthy lifestyle — not only in sports, but also monitor your diet. Help goods for sports and healthy lifestyle, which buy including online. This is evidenced by research analysts of the marketplace Prom.ua held specifically for "Today".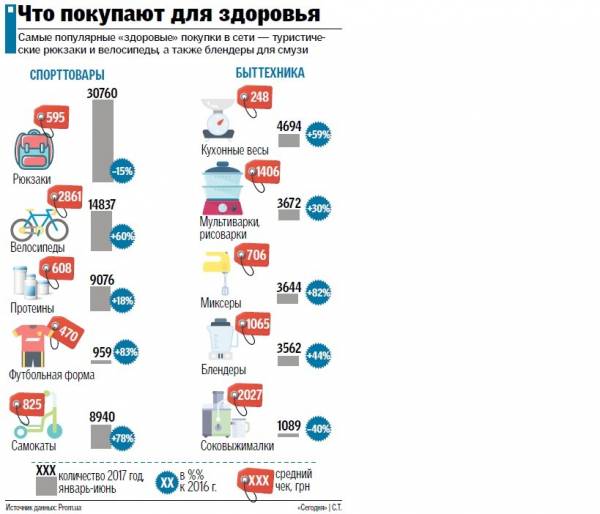 INVENTORY. According Prom.ua the steep rise in the sporting goods and equipment to prepare healthy food (steamers, mixers, blenders), as well as useful products (fruits, berries, nuts, cheese) began in 2015, So if two years ago, for example, for 6 months was 14 thousand orders of backpacks, a year ago — more than 36 thousand, this year — almost 31 thousand
More than double two years ago, people bought bicycles, 3.5 x — scooters. Has grown in popularity and equipment — kitchen scales where you can weigh a portion of products, so as not to eat too much, have to buy twice as often mixers — 3.5 times. Dear slow cooker while snapping not so fast, but they are in increasingly high demand. As you can see from the infographic, the prices are not through the roof, although most grow. For example, a Bicycle has risen by 211 UAH (UAH 2861, this car is not premium, there prices more at times), a kitchen scale is 24 UAH (UAH 248), mixers 57 UAH (706 UAH). But cheaper backpacks (-198 UAH, or UAH 595), slow cooker (-21 UAH, or UAH 1406), blenders (-17 UAH, or up to 1065 UAH).
HEALTHY EATING. Consumers order online and the products — the demand for healthy foods has grown over two years at 50%. In the trend — nuts (an increase of +83%): Brazil nuts, pistachios, peanuts, walnuts and pine. Such orders average cost 381 UAH. The demand for fruits, berries increased by 70%. Popular vegetarian and diet foods: demand growth by 64%, the average bill is UAH 231.
"Ukrainian buyer is just getting ready to order food online. It's the exotic foods that are difficult to find or expensive to buy in the supermarket. Before the holidays more orders by 30-40%," — says Ivan Tailor, head of marketplace Prom.ua.
EXPERTS. Service professionals services Kabanchik.ua note that to fly at 30% increase in the demand for the services of coaches. The personal trainer sessions worth 100-300 UAH. Popular yoga instructor (30%), trainers in Boxing (15%) and dance (14%). Less popular spices in swimming (3%) and winter sports (5%).
According to the President of the Federation for the promotion of health Vladimir Zagorodniy, there are two main reasons for the increasing aspirations of the people for a healthy lifestyle: the deplorable state of our medicine and understanding that the treatment will be much more expensive than to spend money on proper nutrition and the purchase of equipment. "Ukrainians, especially the young, understand: you need to have health, to provide for himself and his family, and began to strive for this" — summed up the countrys.
Comments
comments