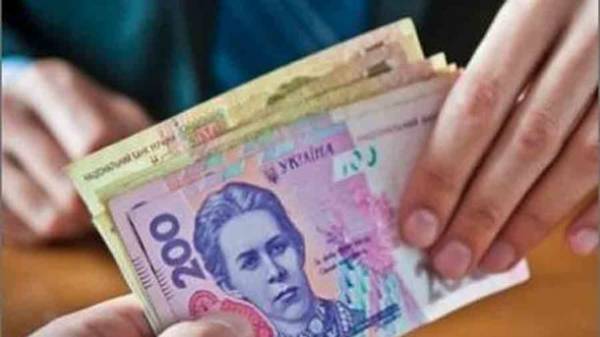 The head of the Ukrainian government Volodymyr Groisman published a video explaining how to pay pensions after the pension reform.
"The government has proposed to raise pensions, which in General will relate to the 9 million pensioners, took place on 1 October. We also proposed to continue each year going automatic indexation of pensions with the growth in average wages and inflation," the Premier wrote on his page in Facebook.
The pension depends on the average salary in the country for three years, length of service and their salary. Now some pensioners receive payments based on the average wage in hryvnia 1197,9, this figure is projected to "modernize" up to 3764 UAH.
For example, the pension for the Ukrainian, who has worked for 35 years and received an average salary, can be calculated as: 1197,91 * 1 * 0,47 = 562,9 hryvnia. Given that the pension age in Ukraine can not be lower than 1312 hryvnia, the hryvnia 749,1 pay from the Pension Fund. After "modernizing" the same pension will be recalculated according to the formula: P = 3764 * 1* 0,35 = 1317 UAH. However, if wages, for example, was twice the national average, is now retired (with 35 years of experience) 1312 receives the hryvnia, and after the "modernization" will be to 2634 hryvnia.
As reported, according to Groisman, the national Council of reforms on Friday expressed support for the proposals of the Cabinet and this week a government bill will be sent to Parliament.
Recall that the pension reform increases the retirement age, but introduces requirements insurance experience: for retirement at age 60 will need to have 25 years of experience. If you experience 15 – 25 years of retirement will be to go in 63 years, less than 15 years – 65 years. People who have no insurance experience, can apply for social assistance upon reaching the age of 63. The amount of assistance will be determined on the basis of the family income of the pensioner.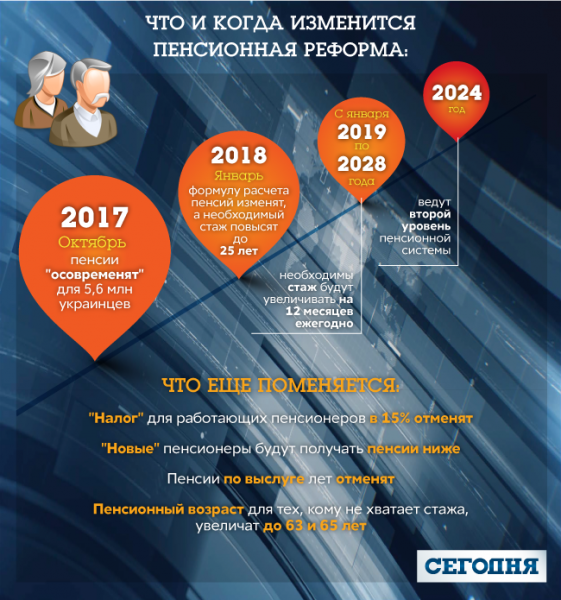 All of the minimum insurance period will increase by 1 year every 12 months until 2028. Thus, from 2028 to retire at 60 will need to have 35 years of insurance experience.
The reform also cancels the appointment of civil servants pension for years of service and enters a single formula for calculating pensions, which binds it to the volume of contributions to the Pension Fund for life.
In the framework of the pension reform is also planned from October 1 this year to increase pensions, and to abolish the taxation of pensions to working pensioners.
Comments
comments