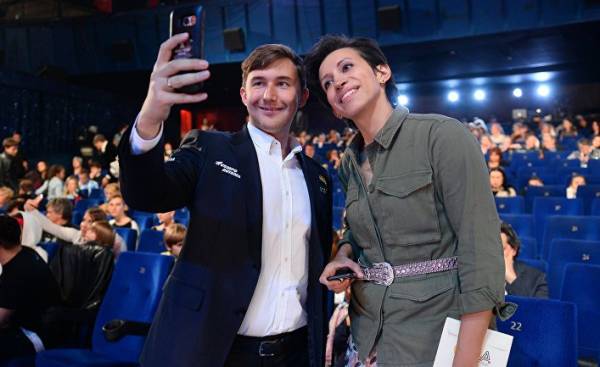 Sergey Karjakin: "I than last time". On Thursday, he was reunited with Magnus Carlsen.
First, from the revolving doors of the Moscow airport there smiling Galia Kamalova. For her and Sergey Karjakin. Chess player looks bewildered. Hump, like a shy teenager. He obviously did not expect that it will meet so many outbreaks. Apparently, it is in these moments Karjakin realizes that his life has changed. Forever.
It's been six months since the day when Sergey Karjakin returned home from the world Cup in new York. Despite the fact that Magnus Carlsen he lost the subsequent match of the week to Karjakin was riveted everyone's attention. Now he returned to Norway and again to meet his opponent, which played in Manhattan.
In the super tournament Norway Chess both have the players who fought for the world title, things are not going very well.
Life. after the fight for the title of world champion was.
"He was a star, a true sports hero," says Atle Grønn (Atle Grønn).
It is a well-known chess expert who leads a chess column for Aftenposten. And Grenn — Professor of Russian language at the University of Oslo.
"He is a man very simple, he is a man of the people. The fact that he had become so popular, I was a little surprised," says Grenn.
Caught off guard
After a trip to new York for Karjakin started this tour. Chess, for example, produced a throw-in in the match that was played in Moscow soccer team "Spartak". He has appeared on giant billboards in Moscow, and in may secured a seventh contract with sponsors.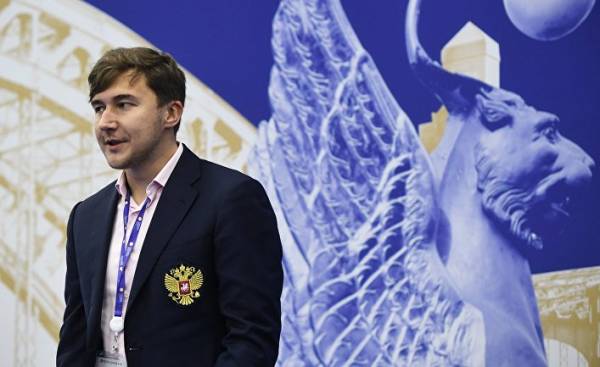 © RIA Novosti Maxim Blinov | go to photobackgrounds Sergey Karjakin
About Karyakin media write much more than other Russian chess "stars", such as Vladimir Kramnik and Alexander Grischuk. Why? From Evgeny Surov, the editor of the Russian chess Internet edition chess-news.ru there is a theory about that.
"The Russian press differs from the Norwegian. 90% of the media are propaganda, or PR, to appease the authorities. And "karyakinskaya project", as well as the Russian chess Federation, has successfully fit into this system," explains harsh situation in an email to Aftenposten.
He believes that the reason for the increased media interest in Karjakin is not that the media is suddenly interested in chess. It is rather a result of deliberate efforts karyakinskaya Manager Cyril Sangalis.
"The interest here is not from below but from above," — said stern, who said that against Karjakin as a person, he has nothing.
Karjakin Manager Kirill Zangalis had not responded to treatment Aftenposten.
"Immediately changed"
In order to understand why chess has become important for the Russian regime, it is important to know the history of Karjakin. He was born on the Crimean Peninsula in 1990 and at the beginning of his sports career he represented Ukraine. In 2009 he started to play for Russia. Karjakin doesn't hide that he supports President Vladimir Putin. He repeatedly stressed that he feels himself Russian, not Ukrainian. Stern believes that such a political stance chess could hardly be a hindrance on the way to achieving star status.
"After the match for the world chess crown status Karjakin immediately changed as if he became world champion," says stern.
The money poured in, but on the chess Board, things were not so successful. Yes, Karjakin won in Qatar on the eve of the New year, the world chess championship in blitz chess tournament Norway Chess he was "only" number 11 in the world rankings.
"In the period between the world Championship and the chess tournament, Wijk aan Zee, he was engaged in the press and a big PR-campaign. The result was sixth place," writes Evgeny Surov.
"Earlier the problem was only with Magnus"
In fact, the media rarely show such a huge interest in chess — even at a high level.
"Before this problem was just with Magnus," says Atle Grønn.
"Karjakin superstar is still only the last six months, this terrible pressure for him — the news. Magnus has learned very well to deal with it, and he is very selective approach to what agrees," adds Grenn.
In an interview with the Russian newspaper "Sport-Express" in may, Karjakin clearly outlined their priorities.
"There is not a single free minute. I must admit, pleased it all — invitations, Dating, interview, but I need to focus on chess," — said Karjakin.
He needs to win the candidates tournament
Karjakin still holds the records as the youngest grandmaster of all time (12 years and 7 months). In the fight against Carlsen for the world title in new York, he stood to the last, but for a long time is the strongest rival of Carlsen.
If Karjakin wants to be able to throw a new challenge for Carlsen, he needs to win the candidates tournament in 2018.
"I think he could become one of the best players in the world — if not the best if you stopped to listen to those who gives him many other duties. Now it seems to me that if next year he won't win the candidates tournament, will not return to that great form he had last year," — said stern.
Atle Grønn believes that Karjakin will be able to return to the scene that changed his life: the world championship against Magnus Carlsen.
"During the match with Magnus at the world Cup he showed that when needed he may show better form. He has this quality," says Grenn and emphatically adds:
"Number 11 in world chess Karjakin to become not want to."
Comments
comments