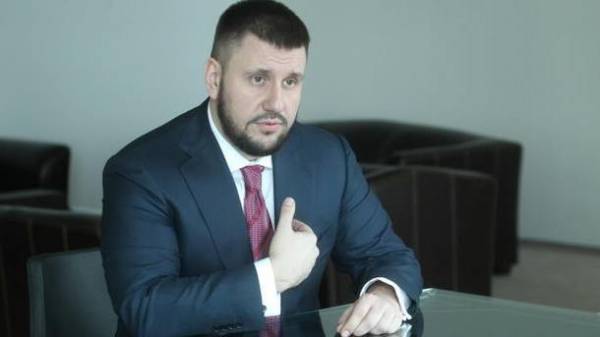 Ex-Minister of incomes and fees of Ukraine Alexander Klimenko reported about suspicion by the military Prosecutor. This was stated by the chief military Prosecutor Anatoly Matios on his page in Facebook.
According to him, Klimenko sent a "letter of happiness", who is suspected of organizing and participating in a criminal organization and of abuse of office.
"Being in a deep exile out of fear to return home, the ex-Minister Alexander Klimenko reported about suspicion in Commission of criminal offenses under part 1 of article 255, part 2 of article 364 UK of Ukraine (creation of and participation in a criminal organization and of abuse of official position). The message on suspicion Klymenko sent in the manner provided in code of criminal procedure. As one would say in this case, Lyashko: "Stole skotinka 96 billion human money," wrote Matios.
He noted that Klimenko together with other suspects Yanukovych times are reasonably suspected of defrauding the state of $ 96 billion (at the exchange rate of the dollar at that time 8 hryvnia).
As reported, on March 1, Goloseevskiy district court of Kyiv gave permission for the holding of a special pre-trial investigation in respect Klimenko.
He Klimenko suspected that from April 2012 to September 2013, occupying the post of Minister of incomes and fees, "consisting of established and led by Yanukovych V. F. criminal organization, abusing official position, acting from mercenary motives, by implementing developed the criminal plan and the criminal scheme took possession of the means of the state budget of Ukraine for the total amount 3,166 billion by illegal compensation of VAT to the accounts of fictitious enterprises, especially large size, which were distributed between members of criminal organizations."
Klimenko, head of the State tax service of Ukraine in the period from November 2011 to December 2012, the Ministry of income and charges of Ukraine from December 2012 until the end of February 2014. After the revolution of dignity, he fled from Ukraine.
Comments
comments