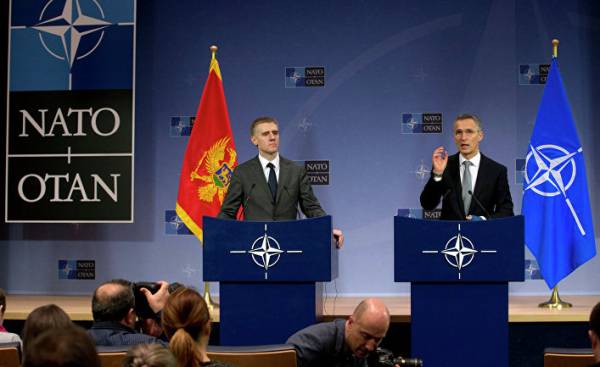 Monday may 5, Montenegro became the 29th member of the Alliance, has caused serious discontent of Russia. Moscow banned imports of wine from Montenegro and is threatening new sanctions, the nature of which is still unknown. In turn, the authorities of the small Balkan States accused 14 people, including in absentia of several Russian citizens in the alleged coup attempt in October 2016. The government in Podgorica says that the mercenaries and agents associated with the Russian special services, had intended to kill the then Prime Minister Milo Djukanovic, so as to prevent the entry of Montenegro into the Alliance.
This corresponds to reality or not, but the discontent of Moscow is obvious. A few hours before the ceremony of admission of Montenegro to NATO, the Russian foreign Ministry said: "in Montenegro, the Continuing anti-Russian hysteria only causes us regret. In light of the hostile lines of the Montenegrin authorities, the Russian side reserves the right to retaliate on the basis of reciprocity. In politics, as in physics, every action generates a reaction." In Russia's view, this step is contrary to the "centuries-old brotherly relations" between the two States.
Why is a country with an area of 13.800 square kilometers — slightly larger than the province of Cordova and the army, numbering only two thousand troops, had caused such a violent reaction? Immediately, we note that from a military point of view, Montenegro is not much able to contribute to NATO. However, some observers point out that, thanks to the access to naval bases in Bar and Herceg Novi, as well as, perhaps, to the port of Kotor, the Alliance will gain control of the entire coast on both sides of the Adriatic sea. Croatia and Albania joined NATO in 2009, so it remains only a small strip of Bosnia, reaching up to 20 kilometers.
"It is difficult to say whether NATO is to deploy its military facilities in Montenegro. However, from a military point of view base Kotor was one of the main Armed Forces of the former Yugoslavia. It was well equipped and there were ships controlled much of the Adriatic sea," – said in an interview with Radio "Free Europe"/"Freedom" Colonel Boris Podoprigora (Boris Podoprigora), Chairman of the St.-Petersburg club of conflict resolution. "As far as I know, on the other side of the Adriatic, in Italy, no large databases. They all focused on the other side of Italy, mostly near Naples. However, I can confirm that Montenegro is a strategic important area in the region. This unit is geographically important for NATO", — he said.
To escape from the clutches of Russia
"Montenegro has an important enormous geopolitical importance to NATO," – said Mira Milosevic, a leading researcher on Russia, Eurasia and Balkan countries in the Royal Institute Elcano. "Thanks to Albania, which is already a NATO member, Croatia, and Slovenia and Italy on the other side, NATO can fully control the waters of the Adriatic sea. And given the deterioration of relations with Turkey, NATO is extremely important to be in close proximity to the Mediterranean sea so vast and strategically important space," she said in an interview with El Models.
In addition, this step will contribute to prevent Russia's access to these naval bases. In recent years a number of American commentators have repeatedly said that Moscow suggested that Montenegro billions of dollars in exchange for permission to deploy its military bases on its banks, in particular, on the territory of the former Yugoslav army bases in Bar and Kotor, which would ensure Russian presence in the Adriatic sea. In addition, Russia turned to Montenegro with a request to allow to use objects in the Bar as logistics support for their ships heading to Syria. Under pressure from NATO, the government of Montenegro Russia refused this request.
"I think that this step is especially important for Montenegro," says Borja Lasheras (Borja Lasheras), head of the Madrid office of the European Council on foreign relations. "From a political point of view, it is a step made by the government contrary to the threats of Russia, despite the resistance of opposition groups, some of which have ties with Russia. It's kind of a political victory of a small country". The same view is shared by Milosevic. "For Montenegro, the main thing is to escape from the clutches of Russia", — said the expert. Undoubtedly, this is an important step in strengthening national security, NATO membership means recognition of Montenegro as a country. In addition, as has been demonstrated previously, this is the first step to joining the EU".
According to experts, another important example in itself. "In recent years, NATO pursued a policy of expansion. In their public statements, senior officials of the Alliance had always supported the so-called eastward enlargement, the accession to NATO of Ukraine and Georgia, but in both cases this led to a protracted conflict with Russia. In private conversations officials say that it was impossible to expand eastward to the Russian borders. Thus, when Montenegro, as if they give a signal that the Alliance continues to expand, despite the protests of Russia," — emphasizes Milosevic. "NATO sends a signal that the Euro-Atlantic perspective is part of the efforts to establish stability in the area. In any case, because NATO has played a peacekeeping role after the war in the Balkans, it allows you to believe that these countries have a future, and they will not become a no man's land. The promise is this: those countries which want to join the Euro-Atlantic space, still have the opportunity to do so," says Lasheras. This signal is of particular importance for Bosnia, being a candidate for NATO membership since 2007, and applied for EU membership last year.
In his speech during the ceremony, the reception, the Secretary-General of the Alliance Jens Stoltenberg (Jens Stoltenberg) said that Montenegro "sits at the table as equals, with equal voice in making decisions Alliance and guaranteed independence," while stressing "professionalism, courage and dedication of their troops." This does not mean that Europe and the United States do not know about the serious problems of the country, similar to those faced by neighbouring countries, which is neither diplomatic nor military intervention did not bring long-awaited stability and prosperity.

A significant Russian minority
"It is obvious that the country is going through a difficult stage in its development, there are problems with stability and democracy. Remain open questions about necessary democratic transformation and the construction of a legal state," – emphasizes Lasers. "Montenegro has always had the support of NATO and the EU. And not because he was a model for democratic development, but because it was the scene of confrontation between NATO and Russia", — said Milosevic. In this regard, it quoted a senior European diplomat, who in the late 90-ies, answering the question about the involvement of the government of Montenegro to thrive in the smuggling of cigarettes, shrugged and said, "They also need to do something to live."
Thus, the accession of Montenegro to NATO — the next goal in gate of the Kremlin. "For Russia it is a political defeat, because she's trying to create some kind of buffer zone in the Balkans. Although some Balkan countries (Croatia, Albania) are already members of the EU and NATO, Russia warned that one of the red line is NATO membership in countries like Montenegro, not to mention Serbia," says Lasheras.
Do not forget about the economic relations that could be affected in case of aggravation of relations between Russia and Montenegro. Montenegro is home to about seven thousand Russians are a significant minority in the country, there were only 620 thousand inhabitants. Russian citizens own approximately 40% of the real estate on the Montenegrin coast, and Russian tourists accounted for one third of all guests. In this sense, "Montenegro may suffer much more damage than Russia, because it is a small country, although her allies abound," says Milosevic, who believe that in this confrontation of economic considerations to Moscow's fundamental values.
"And if NATO Montenegro is of strategic value for Russia it is more of a symbolic than a real value. Since 2007, Russia has openly, and before that in a veiled form stated that it opposed NATO expansion, and therefore continues to Express dissatisfaction, although Montenegro has only six hundred thousand people. On the coast of Montenegro, home to many Russian Nouveau riche, but Russia can do without Montenegro. And yet in the eyes of its traditional ally Serbia, Russia needs to look like power, which supports its friends in the Balkans. Poet the imposition of sanctions and aggressive verbal rhetoric is more like a demonstrative punishment."
Lasers also does not believe in further aggravation of the situation. "Although it is a defeat, Russia will adapt to the new conditions. You may continue to support opposition groups, but with the accession of Montenegro to NATO will accept," he says. Meanwhile, on the Balkan the Board another figure changed color. Perhaps forever.
Comments
comments