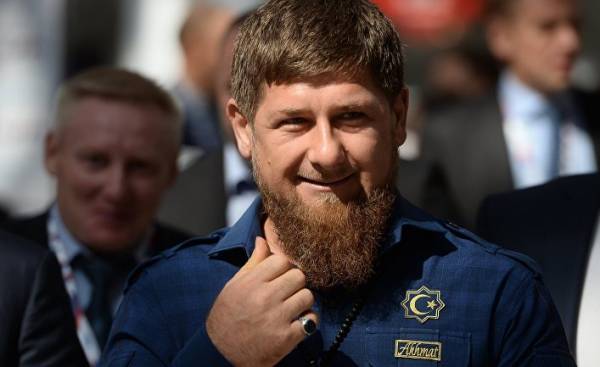 Spectacular attempted murder occurred on Thursday afternoon in the center of Kiev. On this day, Adam Osmayev and his wife Amina Okueva thought that they were going to an interview with a reporter for Le Monde. In fact, the alleged journalist was a contract killer.
According to the Ukrainian police, Adam Osman, the battalion commander, composed of volunteers, many of whom, like himself, are natives of Chechnya, and Amina Okueva, a police officer who took part in the fighting with Pro-Russian separatists in the East of Ukraine, were in the back seat of the car when the "journalist" pulled a gun and opened fire on them. Amina Okueva drew his gun and shot him, seriously wounding. Wounded in chest Osman is now in hospital in a stable condition.
Dingo-the bodyguard of the President of Chechnya
Attempt provoked an emotional response in Ukraine, where this married couple is respected for her contribution to the fight during the conflict in the Donbas. The son of a wealthy family of the Chechen Adam Osmayev leads the international battalion behalf of Dzhokhar Dudayev after the death in 2015 on the Ukrainian front, its Creator, the legendary Chechen General ISA Munayev. This is an experienced military unit, numbering about 300 members, brought in Ukraine many of the Chechen war veterans wishing to continue their fight against Russia but also against people of Chechen President Ramzan Kadyrov, who sided with Pro-Russian separatists.
It is likely that such disagreement is with the regime of Ramzan Kadyrov almost cost the life of this couple. At the scene police found a Ukrainian passport murderers in the name of Alexander of Dakar. Investigators say that the passport is fake. According to many Ukrainian media, in fact, the killer is Denislav-Kurmakaev nicknamed Dingo, a notorious criminal and a bodyguard of the Chechen President. In 2009, Denislav-Kurmakaev was arrested in Vienna on suspicion of involvement in the murder of one of the oppositionists of the regime of Kadyrov. "This man is a Chechen," confirmed the interior Ministry of Ukraine. "He lives under different names and most likely, is associated with close to Ramzan Kadyrov circles".

The kidnapping and killing of the opposition
During questioning in 2009, Dingo announced Austrian investigators that he worked for a secret unit of the special services of President Kadyrov, was empowered "to return to the homeland of the Chechens living in exile." In such restrained form describes the kidnapping and assassination targets which become the enemies of the Chechen regime living abroad. He also admitted that he had seen in the residences of the President a list of about 5 thousand people, who are in opposition to Kadyrov or have attracted particular attention. Among those 5 thousand 300 people were designated as "targets to be destroyed," said the killer.
Comments
comments