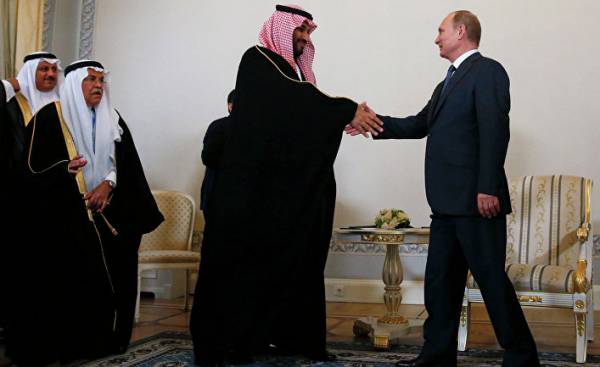 Russia and Saudi Arabia have worked very closely, coordinating their efforts to eliminate excess supply of crude oil on the world market, for which prices fell last year to an incredibly low level.
Together with other oil producers Russia and Saudi Arabia have agreed to drastically reduce the collective production in an effort to maintain prices. Last week, they have extended the validity of this transaction for nine months. The most recent signal regarding cooperation between the two largest oil producers did this week when Russian President Vladimir Putin met personally with the Deputy crown Prince Mohammad bin Salman to confirm this agreement.
However behind the scenes there is another reality — the Saudis and Russians involved in active struggle over who is the largest supplier of China, one of the main importers of energy with an insatiable appetite in relation to crude oil.
Robin mills (Robin Mills), Executive Director of consulting company Qamar Energy, has compared the current rivalry with the "Great game", held in the XIX century geopolitical chess game between Britain and Russia for supremacy in Central Asia.
"Today, China is a player — said mills. Every major exporter, be it Saudi Arabia, Iran or Russia, must be present on this market."
Russian dreams
Russia has made its first major move in 2014. Putin, who was denied access to Western markets due to sanctions over the conflict in Ukraine, looked East in search of a vital supply route.
He found it in China. After several years of negotiations Moscow and Beijing in 2014, signed for 30 years a deal to supply natural gas to the largest energy in the world developing market. The amount of the signed contract is estimated at $ 400 billion.
At the time this contract was not widely advertised, but energy experts believe that Putin has offered a significant discount to Chinese President XI Jinping, in order to ensure the signing of this agreement and to provide Russia access to the Chinese market.
Putin, however, first made the proposal to Beijing.
Hope the Saudis
The now-deceased king of Saudi Arabia began its own attempt to curry favor with Beijing during his overseas visit in 2006. His journey led to the creation of a joint venture involving the China national petroleum Corporation (CNPC) and Saudi Saudi Aramco.
This deal included the construction of a giant oil refinery in the red sea, able to process 400 thousand barrels of crude oil a day, and also the similar enterprises in China. In addition, Saudi Arabia promised to place their Asian headquarters in Beijing. Saudi energy Minister Khalid al falih said that Saudi Kingdom is just the beginning.
"We hope to build significantly more refineries on Chinese soil, he said in an interview with CNN Money. — For us it is of strategic importance — in the highest degree. We have a lot of space for growth, and our Chinese partners know about it."

Asian strategy
However, not only China has attracted the attention of Russia and Saudi Arabia.
This year, the current Saudi king Salman visited the wider region and signed agreements on the supply of oil and natural gas in the amount of $ 13 billion with partners in some countries, including Malaysia and Indonesia.
Energy demand is huge in Asia accounts for almost a third of daily global demand, which last year amounted to 31.4 million barrels. These data are a consulting company FACTS Global Energy.
India, which boasts of a population of 1.3 billion and rapidly growing economy, is another centre of attraction in Asia. According to mills, India today adds to the total volume of consumption of the same amount — and possibly more — of oil, like China. According to falikha, India is a "very big place" on his radar.
Russia is also trying to penetrate this market, and in October last year, she surprised many experts, paying $ 13 billion for the shares of the second largest private oil company Essar Oil. This transaction has not yet received final approval.
Putin is another method outlined their priorities — he invited the Prime Minister of India, Narendra modi at this week's St. Petersburg international economic forum. This is a landmark event, which is held every year in the hometown of the Russian leader.
Comments
comments