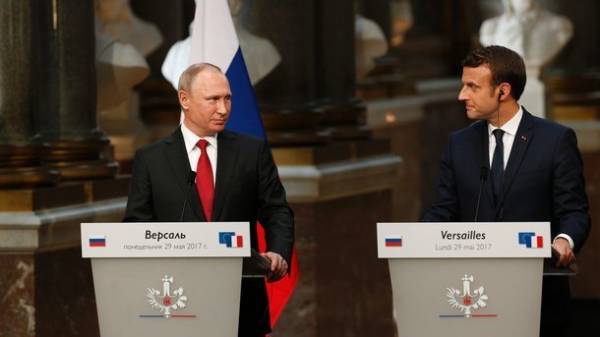 Russian journalist Alexei Venediktov believes that Russian President Vladimir Putin meeting with President of France Emmanuel Makron was expecting to see before him "a weak boy" who's 25 years younger than him and had never engaged in international politics.
This opinion Venediktov expressed in the ether "Echo of Moscow".
He noted that macron has distinguished himself as a person who has certain beliefs. The journalist also added that the French President was ready to question media resources about the Kremlin Russia Today and Sputnik.
"This is the story, of course, fantastic. And he was ready. He knew exactly how to respond. He built a hammered phrase, so he clearly had prepared this answer," – said Venediktov.
"And so throughout. And so in Ukraine and Syria. Putin was very lethargic, in my opinion, and very uncertain. He was bored. That is, it is not what he wanted, so I can say", he added.
On the question of what Putin wanted from the Macron, Venediktov said, "to get around, to bend, to tear from Merkel".
"He (Putin – ed.) was convinced, they all were sure that he (macron – ed.) no one could call him," said the journalist.
He stressed that the willingness of the Makron will meet with representatives of Syrian President Bashar al-Assad is not a victory for the Kremlin, as the current President of France said this during the presidential campaign.
We will remind, the President of France Emmanuel macron has received the President of Russia Vladimir Putin on may 29 at the Palace of Versailles. The talks lasted three hours. As reported, the leaders of France and Russia gathered to discuss the work of "Norman format", Minsk agreements, the situation in Syria, Libya and North Korea.
Comments
comments