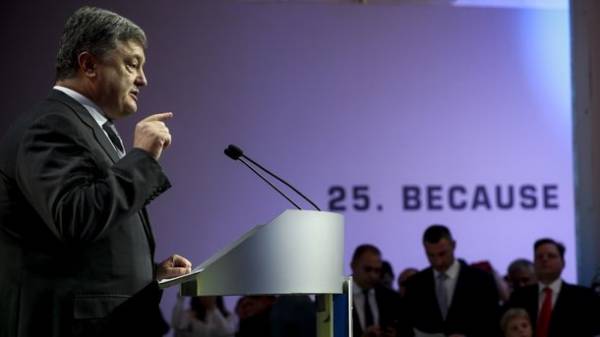 In 25 years of independence between Ukraine and the United States established a strategic partnership and with the support of the United States, Ukraine becomes stronger Bastion of democracy in the region, said President of Ukraine Petro Poroshenko during the congratulations to the American chamber of Commerce in Ukraine with the 25th anniversary of the founding.
"It's a partnership for democracy. Ukraine has always felt sturdy shoulder United States to build strong institutions, developed civil society and a prosperous market economy. With this support Ukraine becoming more stable Bastion of democracy in the region", – the press service of the President
In addition, Poroshenko noted that Ukraine's partnership and the U.S. aims and providing global stability: "Abandoning the third largest nuclear Arsenal in the world, Ukraine has played a historic role in strengthening the regime of non-proliferation on a global scale."
The President also stressed that Ukrainian-American cooperation is to provide the world.
"The last is critical in a period when Ukraine is becoming a key battleground between the liberal order, professed by the U.S. and Russian revanchism," he said
"I thank our friends in the USA for the real support of Ukraine during all these years. But most importantly, I would like to thank USA for their support in these days. Having a solid bipartisan basis, this support is very important not only for Ukraine… But if you firmly stand on the ground of unity and solidarity, if you keep a strong United front, the transatlantic sanctions against Russia, if really to work for peace through strength, we will eventually be able to withstand the current storm and to defend the world order that we together promote and protect," – said Poroshenko.
In addition, the President stressed that, despite the security challenges, the Ukrainian authorities managed to stabilize the macroeconomic situation, progress in the fight against corruption.
Comments
comments