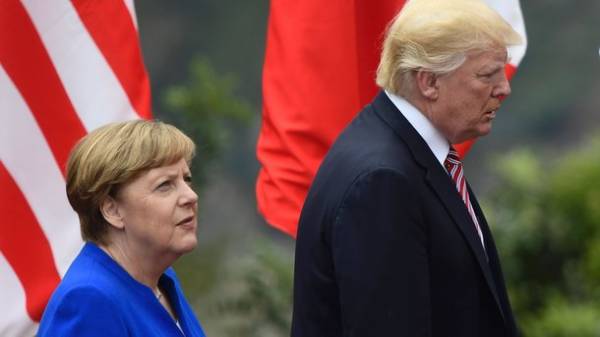 France, Germany and Italy, along with the administration of the European Union expressed regret at the decision of the President of the United States Donald trump about the release of the Paris climate agreement. This is stated in the published joint statement of the heads of governments of the three countries.
"The Paris agreement remains a cornerstone in the cooperation between our countries, for effective and timely solution to the problem of climate change and implementing sustainable development goals by 2030", — the statement stresses.
In the opinion of the heads of governments, the impetus that was given in Paris in December 2015, is irreversible. "We firmly believe that the Paris agreement could not be revised because it is a vital tool for our planet, societies and economies," the document says.
"We are convinced that the implementation of the Paris agreement provides significant economic opportunities for prosperity and growth in our economies and globally", — said in a statement.
"We therefore reaffirm our strong commitment to the rapid implementation of the Paris agreement, including its objectives in the field of climate, and we encourage all our partners to accelerate their actions to combat climate change," say the heads of governments.
After trump announced U.S. withdrawal from the Paris agreement, the German Chancellor Angela Merkel in a telephone conversation with him, expressed regret, according to a Twitter press Secretary of the head of the German government Steffen Seibert. According to him, Merkel tuned "more than ever" to work for global climate policies to preserve the planet.
Makron, in turn, said, commenting on the decision Tree that the United States had his back turned to the world, but France turned her back to the United States, reports Reuters.
In a telephone conversation that Merkel had with President of France Emmanuel Macron, the leaders agreed to take further initiatives to climate agreement were successful.
Earlier, the regret of a unilateral US withdrawal from the Paris agreement was expressed by the European Commission. "The Paris agreement will continue to apply. The world can continue to count on Europe as a global leader in the fight against climate change," reads the statement.
Thursday, June 1, trump at a ceremony at the White house announced the US withdrawal from the climate agreement. In his view, it is infeasible for the United States. The President said that the United States will begin negotiations about re-entry into the Paris agreement or of a "new deal on terms fair to the United States, their businesses, their employees, their people, their taxpayers."
After that, trump phoned Merkel, the Macron, and the Prime Minister of Canada, Justin Trudeau and Prime Minister of the United Kingdom Theresa May to explain his decision to withdraw from the agreement.
The US withdrawal from the climate agreement, committing to reduce or stabilize greenhouse gas emissions, was one of the campaign promises trump. 10 Nov 2016, he stated that "climate change is not the most urgent issue of national security."
Comments
comments