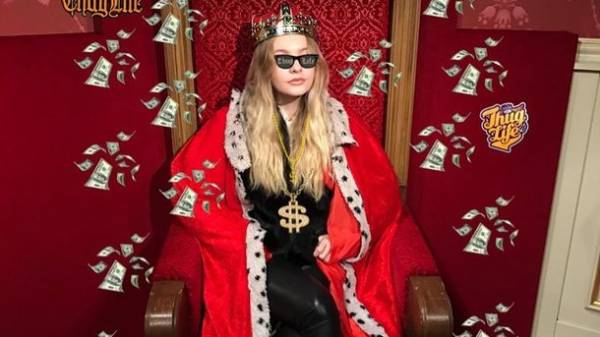 Daughter of press Secretary of Russian President Dmitry Peskov Peskov Elizabeth has published in his Instagram post with the satirical "Frank" recognition that she is "the daughter of a billionaire and a thief of the country", reports "Rain".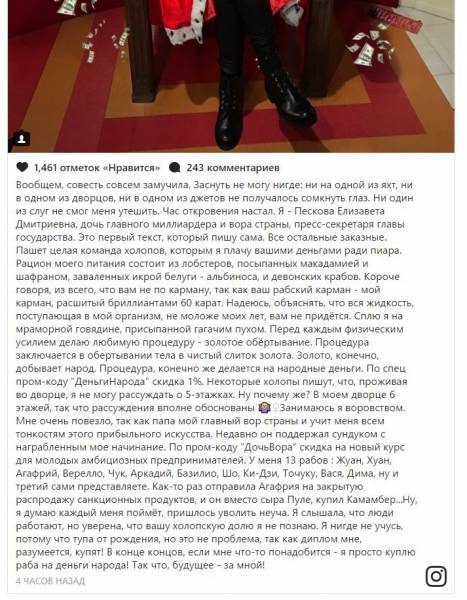 In the caption, Peskov says that this is the first post, written to her personally and not "team slaves", describes his diet that "you can't afford, as your slave pocket – my pocket, embroidered with diamonds 60 carats," and joked that he might talk about the five-story building, because she lives in a beautiful Palace. "I don't go to school because dumb from birth, but it is not a problem as diploma I, of course, buy! In the end, if I need anything – I'll just buy a slave with the money of the people! So, the future belongs to me!" — wrote Peskov at the end of the post.
There is an assumption that page girls hacked. But, meanwhile, Peskov had previously distinguished the controversial social media posts. Thus, recently, she criticized instagram's policy of Moscow city hall and personally mayor Sergei Sobyanin for the extension of sidewalks in the city. Moscow "at all desire can not become a walking" because of the climate and distances, she wrote, but supported the program of the demolition of Khrushchev.
Peskov last few years living in Paris, where he studied in business school. She already commented on criticism in social media about her life abroad, saying that she "absolutely no matter" where she lives. "I, like many of my generation, a man of the world, a cosmopolitan, and I laugh at the eternal accusations in my address when I say that I have to live in Russia," she said.
Comments
comments