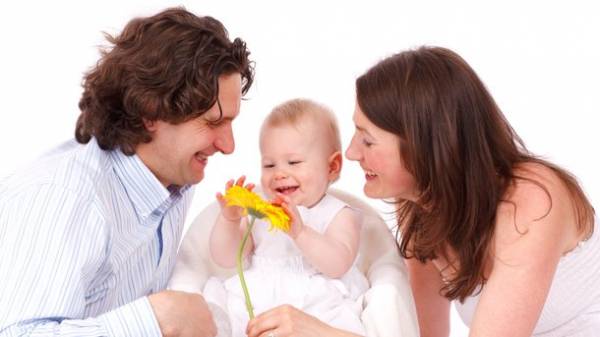 The newspaper "Today" and the portal "say no to Orphanhood" has decided to help orphans find families. Every month we will publish stories of guys who live in residential institutions: perhaps among you, they will find their parents. Together with experts and adoptive parents, we will debunk the myths about adoption.
Today in Ukraine there are nearly 106 thousand children who are brought up in institutions. In comparison with 2000 the number of adopted children decreased by almost two times! "In our portal we have noticed that over the previous two years, 2015 and 2016, the indicators of adoption were lower than in the previous year, — says the editor of the portal "say no to Orphanhood!" Alla Kornienko. — However, this year, compared with the same period last year, the number of adopted children increased. Now our site has more than 7.5 thousand children that are waiting for a family. The portal is constantly updated: we refreshed the profiles of children, which is already on the site
and add new".
Every adoption begins with the desire of parents to adopt a child. Today around the theme of adoption there are many myths that often deter prospective parents. The goal of our new project "Baby is looking for parents" to help children find families, and parents — to share how they can take the child into their family. We talked to parents who have already adopted a child, and learned how they took such an important
the decision and the challenges faced.
CHECK DARE
"The decision to adopt two children, we adopted fast enough, says harkovchanka Yulia Nakonechna. — When in the East the war began, my husband began to help the families displaced from the area ATO. On the Internet on different sites found the ads where people wrote what they needed and shipped. Once came across the website of the program "no to Orphancy!". After reviewing the questionnaire, the children, the husband drew attention to two of three brothers, and offered to adopt them. That evening we discussed it with the whole family. We already had three children — a daughter who is now 19, and two sons of nine and three years. The children took the news well. And for our 9 year old son it was a dream — he saw plenty of commercials about these children, and every time after watching said: "Well, let someone take our family!".
Remember when we appealed to the regional service for children, the inspector, who secured for us, we became discouraged: "Why do you, not need you have kids of your own! Good children do not happen, and the adoption of many children with a variety of terrifying diagnoses." Then we found out that it was a psychological trick, so check out our my husband and the willingness and seriousness of purpose. After a child, not a thing that can be brought back to the store and not an animal that you can find another host. But some parents like to phrase can really push. Future adoptive parents I would advise you to be persistent, because there was nothing in the adoption process there.
About how to get along children, I wasn't senior enough to the situation to understand, and the kids quickly get used to it. Remember, on the eve of adoption, at night, when the children already went to bed, I trained to quickly pick up toys. Thought: soon the kids will be more things too more, so you have to remove at an accelerated pace. But after two weeks it became easier: children have made friends and have started to put away toys, hang up clothes each in his own chair… Some wonder how I have time to do. The secret is that the more children, the easier they are playing, monitor and help. So now in our family, four boys and a girl. By the way, my daughter just a month ago was married".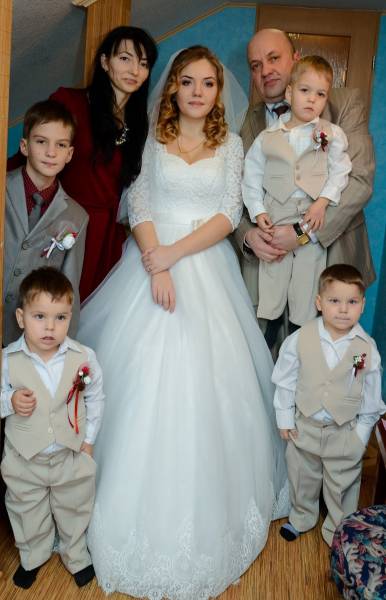 Family Nakonechny. Sons are very friendly, and the daughter is already married
OKSANA: "FIRST YOU NEED TO "RECOVER"
"The decision to adopt a child my husband was not one year, — says a resident, Pisochyn village, Kharkiv oblast Oksana iwaniec. — And a conscious willingness appeared in 2014, and then began to collect documents. At that time we brought a family of 8-year-old daughter, 4 year old and 2 year old sons. The documents were collected without any difficulties, although a whole month waiting for the police clearance certificate. Saw the questionnaire Vari, decided to meet her. But when met with the girl, me have started to torment doubts. She had developmental delays, although boarding is often. But the husband said, "Why not this child, but what else? Why go to select — kids are all the same!". And I decided that it was fate. We began to visit the girl more often. Contact Cooking went quickly, and we submitted the documents to the court. Within two months almost every day, I came to the var. She was waiting for me and each time was met with the words: "Mama's coming!". Four months later, in the New year, Cooking was already at our house!
I want to say that adoptive parents — it's not the angels that descended from heaven. These are ordinary people who sometimes do not even know what to expect. Generally, raising a child is a great work. If the mother of the child you're raising is still in the womb, then here you get, for example, a 3-year gift, sometimes to those habits, whom would not want to see. Therefore, to ensure that the child became "his", need a lot of work to redo. This is the education. And it is at this stage parents need professional help — because sometimes you don't know how and from which side to approach! So I never advise anyone not to immediately adopt a child. Everything is very individual, it is necessary to "recover".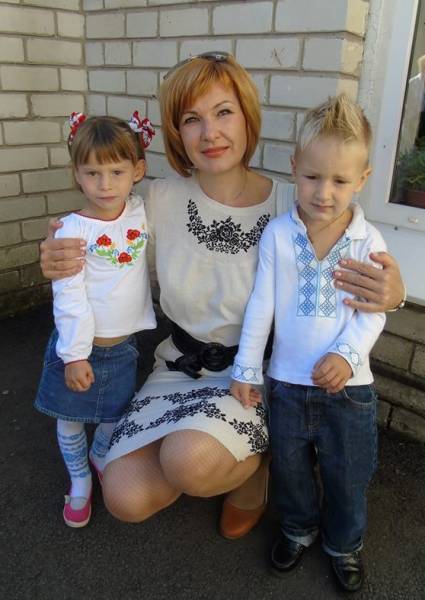 Oksana Iwaniec. Cook adopted when she was 2 years old
ELENA: "NO NEED TO PERSUADE HER HUSBAND"
Orphanage family type Elena and Andrey Zherebchenko created 10 years ago. Helen then worked at the centre for social services for family, children and youth, support of disadvantaged families. A situation arose when one of the families could not be saved. Children had to be placed in a residential facility, and Elena already "rooted" soul to these two children, so they stayed in the family Zherebchenko. Two years was under the tutelage of, and then the couple have created an orphanage of family type. By this time Elena and Andrey was born a daughter, and then, the family had seven more children. Parents do not divide children on their own and foster, so I try not to call the names of those who adopted and who is native.
"They're all the same to us! — explains Elena. — When we had children, it was a difficult and confusing path. And today there is a resource "no to Orphancy!", where you can see profiles of children, their photos and even videos. Generally, the initiator of the adoption or guardianship is a woman, a man and relatives often against this decision. So on the forums you can meet the women from the series: "How to persuade her husband to adopt a child?". This is the explanation: the woman is much easier to love a child, even a stranger. And the man begins to love the child when it already appears in the family. So no need to persuade you — go for it if you feel like it to do."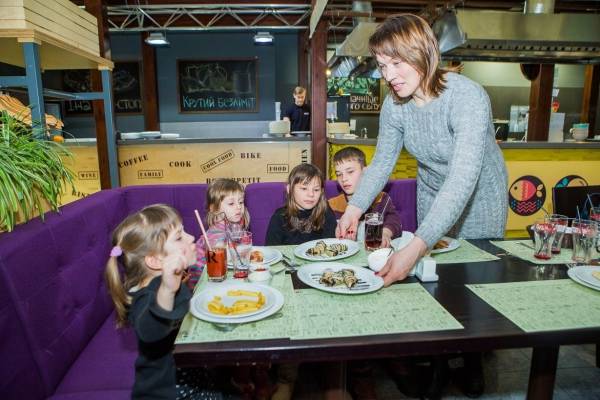 Elena Geraschenko. The former social worker has a 13 children
MYTHS ABOUT THE LONELY AND OLD
A single person cannot adopt a child.
This is — not true. In the list of necessary documents specified in the Decree No. 905, proof of marriage is required only if the adopter is married. In other cases, such a certificate is not required.
The adoptive parents there is an age limit.
This is also incorrect. The Cabinet canceled for adoptive parents "top the bar" in the age requirements. If earlier the difference in age between the child and the applicants were at least 15 years and not more than 45, now only valid norm of the minimal age difference (15 years). That is a 60 year old woman or man can adopt even a 2 year old child.
The biological parent can take the baby from you.
This was only in the movie. Each child has their social status. If, for example, mother is in prison, but not abandons the child, then it has the status of "temporary withdrawal of the child at this period": the child does not fall under the adoption and may be taken temporarily into care.
Adopt, as a rule, childless couples.
Statistics show that many families which have their children, take one or two children from boarding schools.
ANDREI LEARNS TO WALK
Two-year-old Andrew brought up in one of the institutions of the Kharkiv region. Andrew is very sociable child, friendly and smiling. He is holding the spoon, tries to drink from a Cup. Very fond of active activities, especially educational games. Andrew still loves to ride on the machine. He is not talking and trying to walk with the help of adults, but educators believe that in the near future the boy will do it himself. While Andryusha did not get everything, but he tries. He needs a caring parent who will love and help all.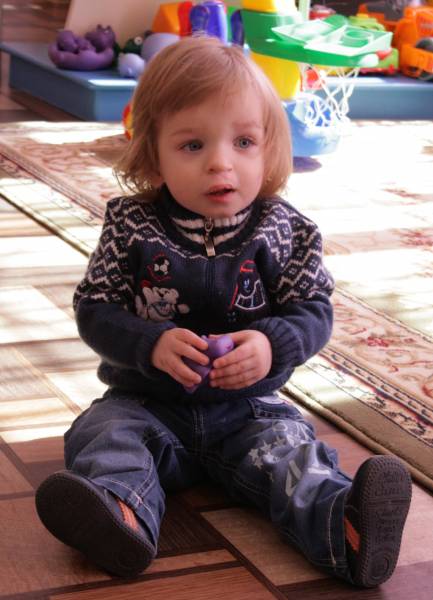 BROTHERS FOR A COOL FAMILY
Brothers Arthur, Timothy and Renat — a wonderful children: positive, energetic, cute. The guys are very friendly with each other, care about each other and support one feels that they have a strong family bond. Boys also say that they are cool, so they need a great family.
Nine-year-old Arthur is calm. He loves to draw: maybe a day to sit, give him just paper and pencils! All of your work, the boy gives the caregivers in the orphanage. Loves to play outside, but most of all he likes quiet lessons: swing ride, roller ride. Football is definitely not his game. The school also say that Arthur is calm, tries to learn, to "catch up" classmates. The food is not picky, loves not only a very "complicated", festive meals, daily food and eats everything.
Tim teachers jokingly called "our eternal engine". It is very interesting, you can talk on any topic. Eats everything does not like meat, but loves fruit, especially apples. Even Tim likes flowers. Educators say, looks like a boy the future botanist. Once out on the street, began to collect different leaves, twigs, flowers, and then it puts everything into the water. When school is tearing the bouquet of dandelions and gives the teacher. Loves to cuddle: goes to school — hugs a nurse, comes home from school — again hugs. Pays attention to the girls, helps, but still need each compliment, asked how I was doing. Not sitting on the ground. Even when doing homework sometimes says: "I can't sit, stand better".
The smallest Renat. He's six, and he also likes to cuddle. His smile and eyes is a miracle! Often asks: "do You love me?". Lacks love. Eats everything but a lot depends on my mood — if not, maybe not even for Breakfast. More into machines. Often tells what car you will buy when you grow up. And in the first place and he has the football: even in winter in the snow trying to street ball to take.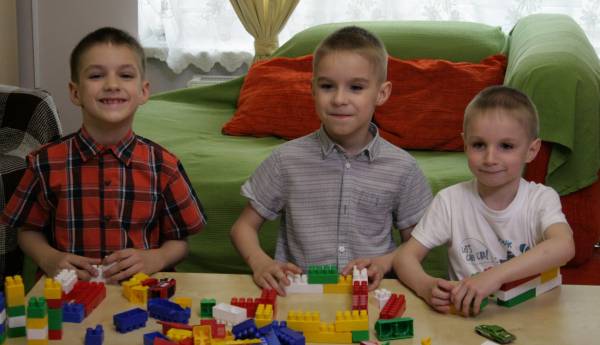 DILIGENT SISTERS
Sisters Diana and Christine — a friendly and kind girl. Diane — 8 years old, she is open, sociable, friendly, sincere, kind and calm. To adults is respectful, polite, easy to contact. Friends with kids has a lot of girlfriends. She has a positive attitude, and sympathy to Diana exhibit both adults and children. She likes to learn: moves to the first class, performs homework assignments, active in the classroom, emotional. Likes music lessons, singing, dancing, participating in various events. Enjoys drawing and making different products.
Six-year-old Christina — balanced and calm baby. She is also interested in studying, she likes to do something together with the adults. It has well developed memory, attention and thinking. Loves to play educational games, easy is designers, puzzles, and makes various products is engaged in modeling. Loves to interact with adults, requires a lot of attention and affection. Loves to pay attention to her praise. Christine neat, all holding up the order. Friendly with children, plays with them, shares toys.
And Diana, and Christine adults give a wide variety of duties, knowing that the girls will perform them as they are diligent and precocious a responsible girl.
THE FIRST INSTANCE
Irina Tsygankova, psychologist, specialist of the City center of the child:
"Town centre child — in fact the only one in Ukraine that deals with the support and accompaniment of families who have decided to adopt a child. Adoption is primarily a psychological process, but he has a legal background and is solely at the discretion of the court, and each family needs to collect certain documents in this list the help of our center is the first. We explain that in Ukraine there are 5 forms of the device children in the family: adoption, custody, foster home, patronage and the orphanage of family type. Different people have different resources, opportunities and expectations. Therefore, we introduce a system that they have decided that more suits them, offer a two-month course, which helps to identify and make an informed decision. If the collection of documents and the court's decision can take from three to six months, that is psychological preparation to adoption is much longer. Each person individually formed affection and love to the child. The specialists of our center and help the prospective adoptive parents to determine resources and their own motivation."
HOTLINE
In the framework of the national program "no to Orphancy!" Rinat Akhmetov's Foundation "Development of Ukraine" works www.sirotstvy.net. It is possible to find profiles of children from all over Ukraine, which are subject to adoption. Operates a hotline, which advise lawyers, psychologists and social workers: 0-800-50-14-14. Calls from fixed phones in Ukraine are free. Edition asks to consider the potential adoptive parents that during the period of preparation of the material in some children can begin the adoption process.
Comments
comments