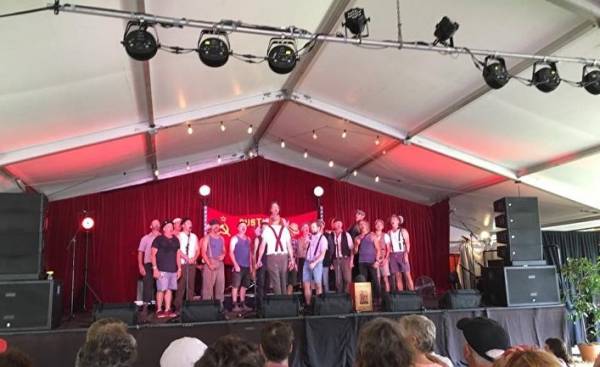 A group of Australians coming together on the basis of love for vodka and Russian folk songs, suddenly became a sensation on the other side of the world.
Male choir of the 28 people called Dustyesky originated in Mullumbimby in New South Wales.
Its participants were United by the love for vodka and Russian music, although none of them know the Russian language and has no ties with Russia.
Through this repertoire they were invited to perform at the event for Russian immigrants in Brisbane, the article about which was published in the Russian-speaking Australian newspaper.

From a speech in Brisbane to an audience of millions
Member Dustyesky Andrew Swain (Andrew Swain) said that this article has generated in the media chain reaction, which resulted in the plot became interested in the "First channel" Russian national television audience of 250 million people.
"Article hit the Internet, then it dragged to itself, reworking, some Belarusian newspaper… And with every translated article I read, it looked weirder," says Mr. Swain.
"This is about Mullumbimby in the press if you did, you wrote that we all sawmills work — and suddenly Russia! he said. — Then he sent us a message with the attached video. It's funny that it happened when the night we had a "Skype" interview to another Russian channel," — said the musician. — We showed at the screen and this movie Wilde [the journalist who took the interview] and asked what they say. She said, ""They were pleased that people in Australia sing Russian songs"".
"The tone of the story was somewhat surprised. Something in the spirit of: "let's See how these crazy Australians from Mullumbimby sing our songs"" — he added.
"First channel" showed a few times this story in the news, and in the end, the choir has offered to organize a tour to Russia.

Moral support for Russians
According to the party Dustyesky Swivel Mark (Mark Swivel), hundreds of Russians expressed their glee their sympathy on social networks.
"Apparently, Australia for them is something very far. They know little about it, so im very curious," — explains g-n Swivel.
"It seems that people are seriously touched by the fact that the guys from far away places with strange culture interested in Russian songs, he says. — Someone criticized our accent, but in General, the reaction of the Russian audience was very appreciative and emotional."
Mr. Swivel added that some of the Russians Dustyesky thank for the fact that they create a positive image of Russian culture.
"They claim that the press now to Russia is unfair, he says. — It hurts their national pride, and against this background their incredibly touched by the old folk and red army songs. You will not believe, but they serves as a kind of moral support."
"And we're just a bunch of weirdos who like to get together on Tuesday evening and sing a little, he said. — It's amazing!"
Dustyesky I hope to visit Russia in 2018 during the FIFA world Cup.
Comments
comments