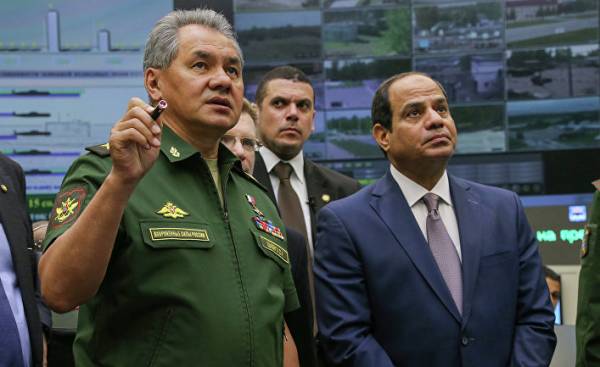 Today (29 may) President Abdel Fattah Al-Sisi has met with Minister of defence of Russia Sergey Shoigu and foreign Minister Sergei Lavrov. The meeting was also attended by the Minister of defence and military industry of Egypt Sedki Sobhi and Minister of foreign Affairs Sameh shoukry.
President Al-Sisi was asked to convey the greetings of Vladimir Putin and expressed hope for strengthening relations between the two countries in various fields.
The President praised the strategic dialogue conducted by the Ministers of the two countries in the format of "2+2", considering the importance of this channel to discuss various issues of mutual interest. He noted that the challenges facing the Middle East, demand increased cooperation between the two countries to restore stability in the region.
The Russian Minister stressed the importance of Moscow in the strategic dialogue with Cairo, and recalled that the intention of the Russian side to promote agreement on strategic cooperation between the two countries since 2009.
They also expressed their interest in continued consultation with Egypt on bilateral and international issues of common interest in light of the close cooperation between the two sides.
Press Secretary of the President of Egypt Alaa Youssef said the meeting reviewed several issues of bilateral cooperation. The President confirmed the interest of Egypt in strengthening of the partnership with Russia in economic, commercial and industrial sectors. He approved important projects, which countries are in Egypt, and the establishment in Egypt of Russian industrial zones, joint projects will give a powerful impetus to the relations between the two countries.
The parties also agreed on the importance of coordination of efforts to combat terrorism and to continue cooperation between the two countries in this area.
The Russian side also praised Egypt's efforts during its chairmanship of the counter-terrorism Committee of the Security Council for promotion of international mechanisms of fight against terrorism.
The meeting also discussed the latest regional developments, especially the situation in Syria and Libya. Both sides reaffirmed the priority of a political solution to the crisis over the military, the principle of maintaining the unity of countries and their territorial integrity.
Comments
comments