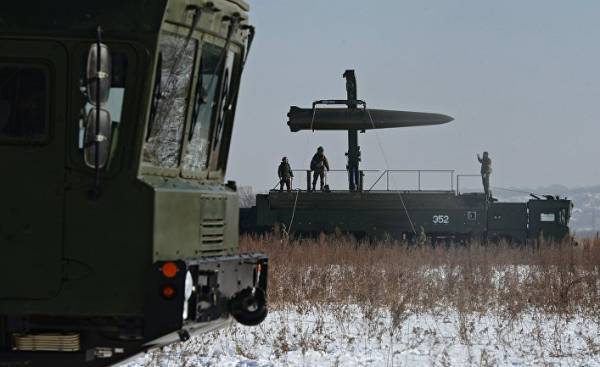 Russia transferred to Tajikistan missile complexes "Iskander-M". NATO has expressed serious concern over the situation.
The Russian rocket complexes "Iskander-M" was first deployed in Tajikistan for joint military exercises to combat terrorism conducted in the CIS.
According to the Russian news Agency "TASS", the commander of the Central military district (CVO), General Vladimir Zarucnicki said that the missile complexes "Iskander-M" in the course of military exercises will perform the missile launch at the base camp of conventional terrorists in the mountains.
Missile complexes "Iskander" will take part in military exercises outside of Russia.
The acquisition of such system Tajikistan, which borders volatile Afghanistan, is extremely important. And also, it will help Russia to counter the threat of invading terrorists in the Central Asian countries bordering it.
In addition, Tajikistan is located close to the zones of influence of NATO in Afghanistan.
The CIS, which conducts joint exercises with Russia, is an organization consisting of 12 former Soviet republics, most of which are in Central Asia and Eastern Europe.
Missile complex "Iskander" is adopted by the Russian army in 2006. "Iskander" has a maximum range target of 500 km. In this complex are used high-precision cruise missiles R-500, which are controlled throughout the entire flight.
Operatively-tactical complexes "Iskander-M" is capable of carrying nuclear warheads, but currently these systems are only equipped with conventional warheads.
The Russian defense Ministry has confirmed the transfer of missile complex "Iskander-M" in the Kaliningrad region on 8 October 2016. This action caused criticism from NATO, which saw this as a threat to countries in Eastern Europe.
Earlier in Tajikistan arrived bombers "su-24M", in addition to the helicopter "Mi-8 and Mi-24".
Anti-terrorist center of the CIS will hold a large-scale anti-terrorist exercises "Dushanbe-Antiterror-2017" together with the armed forces of the Commonwealth. The first phase of the exercise will be held on 30 may 2017.
The commander of the CVO Colonel Vladimir Zarucnicki said that Russia has increased its military base in Tajikistan MLRS "Uragan".
"We strengthened the defence of the 201st military base is formed by the division of high power weaponry which is MLRS "Hurricane"," — said Vladimir Zarucnicki.
In addition, he said that the number of connections remains in the framework of international agreements.
And also, last Wednesday passed a comprehensive check of the combat readiness of the military of the 201st Russian military base in Tajikistan.
The representative of the press service of the Central military district, major Nikolai Barkalov reported that the military was brought to the highest willingness to commit forced March to the designated area to perform combat missions. Soldiers and officers can practice their skills on removal of equipment from storage, loading of ammunition, as well as in the implementation of tasks on combating terrorism.
Comments
comments