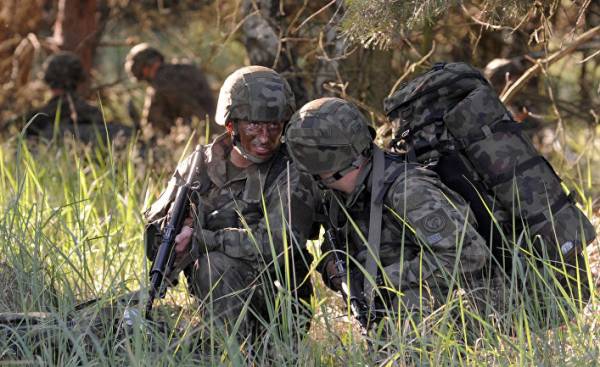 The President of Poland Andrzej Duda for the renewal of finding of battalions NATO on its Eastern flank is a continuation of the application of Donald trump. Poland, like the US, fears of a military threat from the Russian Federation.
In this case, NATO played a very nice, as is taking steps in response to Russia's actions, and is not the initiator of the arms race. NATO takes steps in response to threats from the Russian Federation, including military threats.
After all, Russia is the prospect of 2025-2030 years creates increased forces in the military theater of operations along its Western borders. In particular, the formation and the 20th field army, and the 8th tank army that has them scheduled while on paper, but is already operational staffs of these armies.
And 20, in addition, the division number to 150 thousand people. Now ending combat coordination. This is what Russia will strengthen its military power.
Besides, we are deploying new aircraft strike groups. This airfield near Voronezh and Kursk.
But the question is — will there be enough money to build a new strategic aviation bombers — remains open. Today in Russia there are two TU-160 "White Swan" (four machines) and TU-95, and they are all pretty old.
Oleg Zhdanov, a military expert, an ex-employee operational management of the armed forces, Colonel.

***

Reader comments:
antihuman: In line 19 TU-160
Sergey Smehalych: question to the author. Do you think that when the global conflict, even a couple of hundred thousand personnel is going to play what role? In case of serious conflict, the opposing sides will burn staging area. Europe will disappear as a hindrance in the war of Russia and America. The latest planes and tanks are good at parades. They will never face in battle. And about the number of bombers… Your data is highly questionable. And in the global war? For reference. While the approach of the missiles to the targets of the global conflict from 5 to 45 minutes. So keep the gun at arm's length. The melted metal is not spoiled breech shoes))))
Voffkanet: Actually, Europe also has missiles and nuclear weapons, and Germany and France and Velikobritanii will not wait until they burn out)
25 again: the Child, these countries are controlled by USA,and Ukraine. Defensive NATO in the defense climbed to Libya, Afghanistan, Iraq, Yugoslavia, Syria. Apparently, there came a danger to the United States.Now in these countries, all is well. And Yugoslavia have disappeared.
Voffkanet: Advocates of the "Russian world" have climbed in Afghanistan, Georgia, Moldova, Ukraine, Syria. Now in these countries, "all is well", and Syria will soon do may disappear.
Cyril Bagrov: It is the same "military expert" as Kovtun "scientist". Anyhow blurt out something.
Banderivets Vojin UPA: Russia can blow up as many… But she just has less dough and its lack just a matter of time
Zett3ett: Rome was poorer than Carthage… what?))
Jack of diamonds: In that heroic time when all the brightest and progressive forces of the Ukrainian community are fighting for dominance of the Ukrainian language, there are boundaries that you create and write your articles in the language of the aggressor. It's some kind of separatism! Shame!
Ivan Mazepa: A in the ocean "Kuzma" floats on perdyachem afloat!
Leopold Bystrov: "Hugo" at least it floats, and your only "Sahaidachny" just got out of repair and then broken again. It turned out the money allocated for repair, sawed, heh-heh-heh…
best Vitaly: Like a boat "Constipation "great fleet doing?
Senya Rabbits Good For You, Olie! Deserved a cookie by turning the facts inside out. For pots spoiled the product.
Leopold Bystrov: your APU all such colonels stupid? What is the division of the 150 thousand people? The 20 army are: infantry division, 1 motorized division, 1 Ural-Lvov tank brigade. Next: missile brigade, artillery brigade and sustainment brigade. 8 Panzer army do not yet fully formed. In addition, already in full combat readiness — the 1 tank army. There are such famous joints as 4 2 Kantemirovskaya and Taman. All of these actions Russia has taken in response to the deployment of NATO's four battalions in Poland and the Baltic States. The TU-160, Russia 4, and 16,TU-195 -66 pieces,combat-ready 55 pieces, almost all were upgrades.
Aristax Nechipail: I'm loving it. 🙁 Two days ago, the author figuratively "poked the muzzle and" (C) M. I. Kutuzov) and still this wild number (division 150) not fixed 🙁 But if you Google "20 OA", then you can learn a lot from the history of this illustrious guards of the compound and during the second world war and in the postwar period… And it was twice in Prague (in may of 1945 and August of 1968) and more…
Comments
comments