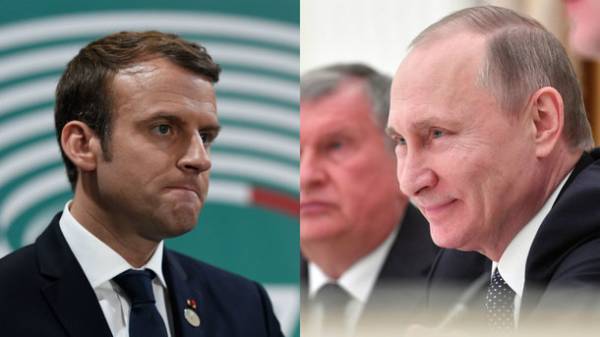 The prospects of the "Normandy format" Ukraine will be among the priority themes for the international part of negotiations the President of Russia Vladimir Putin and President of France Emmanuel Makron. This was stated by Russian presidential aide Yuri Ushakov on the eve of Putin's visit to France.
The topic of Ukraine will take an important place in the upcoming Versailles negotiations, Moscow hopes to get support for the work of "Norman four", said Ushakov.
"Ukraine (talks – Ed.) will occupy a large place from the perspective of the functioning of the "Norman format", – said Ushakov.
He recalled that in a recent telephone conversation the previous composition of the "Norman Quartet" – with the participation of the previous President of France Francois Hollande was agreed that this format will continue, and the new President actively connects to it.
According to him, this subject was discussed on 15 may during the visit of the Macron in Berlin. "Emmanuel macron knows the point of view of Mrs. Merkel (Chancellor of Germany Angela Merkel – Ed.) now he finds out our assessment of the state of Affairs," – said Ushakov.
He added: "Importantly, we expect that the presidents will confirm the necessity of hard work in the "channel format", and no alternative to the Minsk agreements. It will be an interesting discussion, and we are ready, " – said the representative of the Kremlin.
In addition, the leaders of France and Russia intend to discuss nuclear issues of the DPRK, the situation in Syria and Libya.
We will remind, today, on may 29, Russian President Vladimir Putin will visit Paris, where he will meet with the newly elected President of France Emmanuel Macron. However, experts believe – to expect any significant decisions or breakthroughs from this meeting is not necessary.
Comments
comments