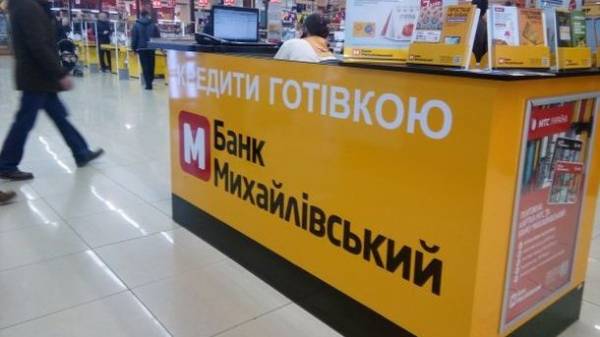 The district administrative court of Kiev, on 15 may, at the suit of the sole proprietor of Bank "St. Michael" – the company "Acasian" – reversed the decision of the national Bank about the insolvency of the Bank, the decision of the Fund of guaranteeing of deposits of physical persons on the introduction of a transitional administration and decisions both of the state authorities to liquidate the Bank, writes FinClub.
The court stated that the transfers 1,507 billion from the account of OOO "Investment and settlement center" to the accounts of individuals even increased the liabilities of the Fund, but was not "transactions," the Bank because the Bank "Michael" was not a party to the loan agreements, but only to carry out orders of the client. On this basis, the court decided that the Bank Michael has not carried out operations, which result in its obligations to physical persons within the limits of the guaranteed amount has increased due to the reduction of liabilities to legal persons. So, the reasons for the insolvency was not.
The court refused to "oblige the NBU to perform all the necessary actions to restore the functioning of PJSC "Bank Mikhailovsky" as a Bank".
The national Bank is preparing an appeal.
"The national Bank does not agree with the decision of the District administrative court of Kyiv, which is may 15, 2017, ruled, partially having satisfied the claim of LLC "Acasian" and reversing the decision of the NBU on the Bank becoming the St. Michael in the category of insolvent and liquidate the Bank, as well as both decision", – reported in national Bank.
Recall that the Bank Michael was a troubled twice, in April and July 2015 and 22 Dec 2015. A year ago, may 23, 2016, the Bank declared the Bank insolvent and its liquidation began on July 13.
The bankruptcy of the Bank Mikhailovsky famous for the fact that 14 thousand people lost 1.6 billion in the RPI and kits, being outside of the system of guaranteeing deposits. After a series of meetings the President of Petro Poroshenko has submitted to Parliament a bill which has extended the guarantee Fund the money of clients of financial companies, attracted with the Bank Michael. Fund part of the money paid.
Comments
comments