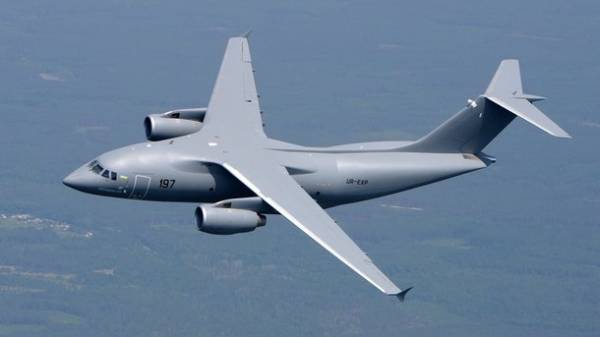 Improvement and further development of aircraft industry of Ukraine depends on large-scale investments, as well as the organization's new international technology and productive sectoral cooperation maintained in this direction by the management of GP "Antonov" (Kiev) work is progressing. This was stated by Prime Minister of Ukraine Volodymyr Groisman.
"This area (the aviation industry – Ed.) you need to invest. To invest hundreds of millions of dollars", – said the Prime Minister, answering a question about the government's plans to improve the situation in the aviation industry, as well as the assessment of the Prime Minister the efficiency of management of Antonov company during the "question hour" to the government in the Verkhovna Rada on Friday, may 26.
Groisman noted that the question of organizing a new international industry technological and industrial cooperation in the aviation industry is included in the agenda of almost all official foreign visits of the head of the government.
"With some countries we have begun the process of cooperation to create a joint product. This process is not one of the day, and cannot be solved in a very short period of time," he stressed.
"In the segment of transport aircraft we have quite significant opportunities in terms of new contracts with other countries. Don't want to open here specific names of countries, but this work is done," he added.
As stated Groisman, considering it a key criterion for assessing the effectiveness of the leader is not specialized education, and performance and the ability to learn.
The Prime Minister recalled that recently in the capacity of Antonov company completed Assembly and flown a prototype of a new transport, the An-132, being built by Ukraine in the wide international cooperation on the order of Saudi Arabia.
As reported, in Ukraine there can be a new military aircraft radar detection and management EN-148ДРЛОУ, which will receive the Air force.
Recall, Ukraine intends to create its own multi-role fighter, which should reduce the dependence of Russian Air forces from the Russian aviation industry. Light combat aircraft (lbs) will be equipped with turbojet engines, which are produced in Zaporozhye.
In 2016, the head of the Committee on national security and defence Sergiy Pashinskiy said that Ukraine either technologically or financially can not afford to create a military aircraft even the easy plan.
Comments
comments