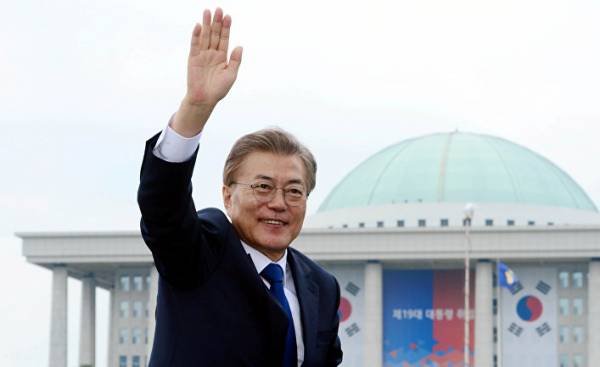 The administration of the President of South Korea, moon Jae-Ins started to implement new foreign policy, sending representatives to Japan, USA and China. Most likely at the initial stage of Seoul, will behave with these countries are friendly and courteous, but given the situation in the region, it becomes obvious what to rely.
How to confront North Korea, which continues to behave aggressively, and how to eliminate this threat? I wish Seoul could remember that maintaining a strong structure created by the United States, Japan and South Korea, is the most viable and suitable method.
Policy ignoring international principles and leaning towards dialogue, can only split the coalition and make the situation worse.
The fact that China appreciates the policy of dialogue moon Jae-In, quite naturally.
Japan and the United States always made it clear that they will not be dialogue for dialogue. I would like to emphasize that South Korea must also follow this course.
Generally, you need to understand the meaning of the dialogue, which is so eager administration moon Jae-In, and what is its purpose.
This problem has its own nuances that are not related to Japan and the USA: one nation divided into North and South. However, in the case of dialogue, its objective should be to ensure that the DPRK abandon its nuclear and missile development.
After moon Jae In won the presidency, North Korea twice launched ballistic missile. Probably the moon Jae In was shocked by this. Now we need to rely not on dialogue. It is required that RK has decided to focus precisely on the interaction with Japan and the United States, which increase the pressure.
Head of China appreciated the victory moon Jaina in the presidential election. There is information that during talks in Beijing with members of the South Korean Parliament, the Chinese leader praised the political philosophy and ideas of the President. It is obvious that China, hopeful for a solution through dialogue, trying to win over South Korea in their camp, which also included Russia.
The coalition, consisting of Japan, US-ROK, acts not only against North Korea but against China. Clear as day that Beijing wants to drive a wedge in the coalition that RK refused to place on its territory the latest American missile defense system THAAD.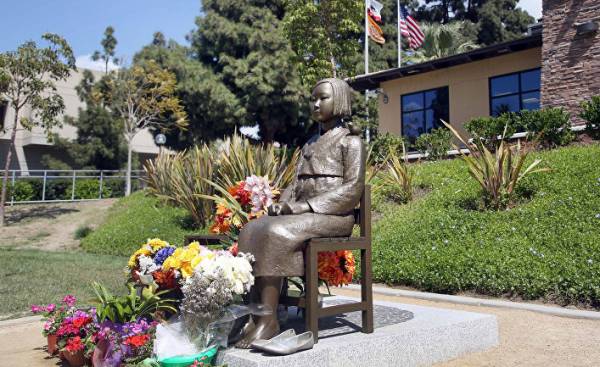 © AP Photo, Nick UtБронзовая statue of a young Korean woman
Also in focus is whether the administration is moon Jae-Ins to respect the agreement on the "women of comfort" reached with Japan (we are talking about the monuments of the so-called "comfort women", Korean women forced to work in brothels of the Japanese army during the Second world war — approx. ed.). Whether it is an interstate agreement between Japan and the United States? Simply put, it depends on whether the international community to trust RK.
Japan will not resume negotiations on the agreement, and the dismantling of the memorial to the "women of comfort".
Comments
comments