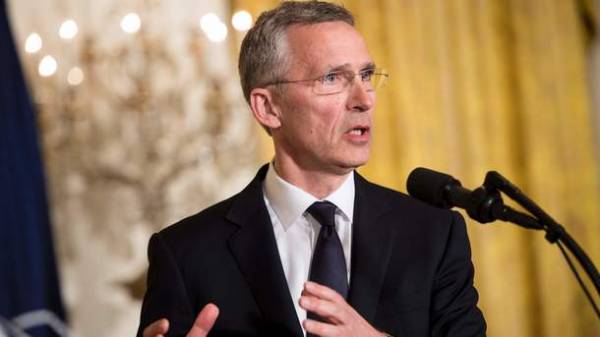 The issue of failure of the Minsk agreements will rise during the meeting of heads of countries-members of NATO on may 25 in Brussels, admits General of NATO Jens Stoltenberg.
"I assume that the member countries of the "Normandy format", in particular, Germany and France, will speak about the Minsk agreement. We must remember that NATO's commitment to collective defence, by deploying 4 battle groups in the Baltic States and Poland. We support the economic sanctions of the EU and the United States and other countries against Russia," – he said at briefing on Tuesday in Brussels.
Stoltenberg said that the Alliance is concerned about the lack of implementation of the Minsk agreements.
"We see many violations of the cease-fire, heavy weapons not withdrawn. We are concerned about the facts of non-admission of observers hmm OSCE", – he added.
Responding to a question about his assessment of the decree of the President of Ukraine Petro Poroshenko on banning Russian social networks, the NATO Secretary General said: "the Ukrainian authorities have clearly stated that such a step is associated with cybersecurity, and not a violation of freedom of speech".
"We know that companies prone to cyber attacks, NATO cyber defence increased. We work closely in this issue with Ukraine and consider the possibility of strengthening the cyber defense of Ukraine", – said Stoltenberg.
Earlier, the Minister of foreign Affairs of Ukraine Pavlo Klimkin said that the United States should conduct negotiations with Russia, because Russia is deliberately cornered the Minsk process.
"First, the United States must speak with Russia. Russia deliberately cornered the whole Minsk process, and then she just flips upside down. It is clear to everyone. Instead understand that you need to guarantee at least a minimum of security. Because without this, no confidence in the actions of Russia", – said Klimkin.
Comments
comments