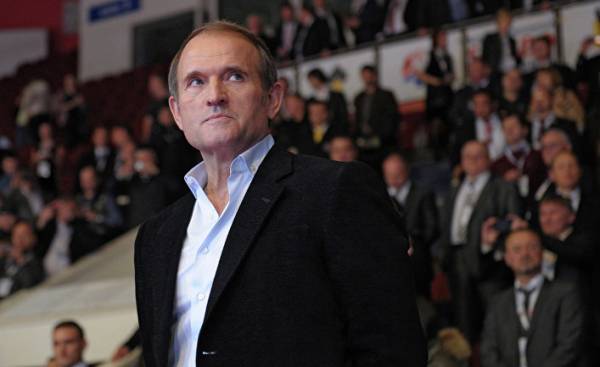 Ukrainian politician and millionaire Viktor Medvedchuk — the man who, apparently, even hitting the water in the clothes will come out of it dry.
For several decades, the 62-year-old Viktor Medvedchuk, without attracting attention, plays a key liaison role between Moscow and Kiev, be it transparency in transactions in the energy market or the endless political negotiations, aimed at resolving the conflict in the Donbass.
Now Medvedchuk, who usually prefers to stay in the shade, can become a man, who will graciously accept and in Western capitals. Because in a U.S. investigation of contacts between the Kremlin and the headquarters of Donald trump during the last election campaign floated the name of Ukrainian, according to sources of the news Agency Reuters.
Himself Medvedchuk denies that this connection played any role, but taking into account past achievements of the Ukrainians is not surprising that he was mentioned in the study.
As for public statements Medvedchuk, probably, should take them with some degree of caution, in any case, according to Russian political journalist Michael Sugary.
"When meeting the most powerful man in Ukraine, I can not find almost anything. You're standing right in front of the mirror, which if you want, you will give a reflection of the person or will not give any display," — says Mikhail Zygar.
Since the nineties externally flawless Medvedchuk played a major role in Ukrainian politics, in particular, as the head of the presidential administration of Leonid Kuchma from 2002 to 2005.
During the reign of Pro-Russian President Viktor Yanukovych, who fled to Moscow in February 2014, he again occupied a leading position and advocated a hard line in the conflict with Pro-European protesters in Kiev.
During this period at Medvedchuk had many opportunities to establish acquaintance with political consultants, who later began to work for trump (Trump), in particular, by Paul Manafort (Manafort Paul), who for some years has solved the problem for Yanukovych and then to August 2016 was the campaign Manager of the trump.
Godfather Putin
A unique political asset Medvedchuk is a close contact with Vladimir Putin.
"I can be, and has ties with Mr Putin because of these relationships, in my opinion, serve the interests of Ukraine", — said last month in an interview with the Financial Times, Viktor Medvedchuk, who, as a rule, rarely gives interviews. "I never hid such activities", he added.
But it is a very friendly relations.
Putin has repeatedly called for Medvedchuk, in particular, at his dacha in the Crimea, though it was before 2014, when the Peninsula still belonged to Ukraine, and the Russian President is godfather to the youngest daughter of Medvedchuk Darina.
It is not only sympathy, but also origin, has many common features, which seem to bind the two politicians of the same age.
The Medvedchuk's Ukrainian parents, although he was born in the Siberian city of Krasnoyarsk, where his father was serving a sentence for participating in the "Ukrainian nationalist organization".
A person born in such a family, it was hard to get a higher education, but Medvedchuk in the mid-seventies still enrolled in a prestigious Kyiv University named after Taras Shevchenko and then did in Soviet times, a brilliant career as an attorney.
It was hardly possible without anyone's help and, according to Ukrainian political scientist Taras, Kuzio, it was assistance from the Soviet security service KGB, where Putin also made a career, and this help explains the success of Medvedchuk.
"Medvedchuk was a KGB informant, when I was at University," writes Taras Kuzio.
Close ties with the Kremlin led to the fact that Medvedchuk, who is no longer popular in the Ukrainian society, was listed in the international sanctions list after Russia's annexation of Crimea.
But they also made him a key figure in the work on contracts with Moscow.
Therefore, he had repeatedly taken part in secret peace negotiations in the Donbas in Eastern Ukraine, where Ukrainian troops are fighting rebels supported by the Russians.
Over the years, enterprising Medvedchuk, apparently, got a good payment for their services. Various Ukrainian media suggest that his condition is from 1.5 to 6 billion crowns.
Comments
comments