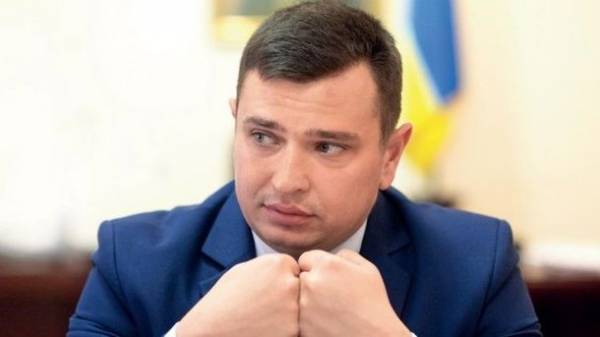 The Director of the National anticorruption Bureau of Ukraine Artem Sytnik says that without the creation of an anti-corruption court cases of big corruption by top officials, can be considered 10 years.
Sitnic said that the Verkhovna Rada did not always make wise decisions concerning anti-corruption bodies, and in particular, it concerns the creation of an anti-corruption court and consent of NABOO to remove the information from the communication means.
"Now we see that those initiatives will contribute to improving the fight against corruption, in fact, they are without movement", – said the Director of the iabu.
At the same time, he drew attention that there are initiatives that "aim to restrict the powers of anti-corruption authorities, or even to destroy them".
Thus, according to Sytnik, such initiatives "are moving in Parliament quickly enough." "And after they face the hard answers from governments and the "Big seven", the government of the United States and our other partners, those attempts until the stop", – said the Director of the NABOO.
In this regard, he stressed that very important to the work of the Bureau is establishing an anti-corruption court.
In his opinion, the anti-corruption court should be created in the framework of the existing judicial system to recruit new judges for terms of the competition and to begin to consider the case, investigated by the Bureau.
According to Sytnik, the judge, who hears 500-600 Affairs, can not hear a case of such magnitude as corrupt scheme by people's Deputy Oleksandr Onishchenko.
"In fact, if you assign in these cases meeting once a month, despite the fact that the judge will not be corrupt in this case, we will see the result after 10 years," he said.
"Such a process does not like any of us, no civil society," – said Sytnik.
He expressed hope that the issue of establishing an anti-corruption court will be resolved. "This court can create to the end of 2017 if the political will and appropriate legislation," – said Sytnik.
Earlier, Prosecutor General of Ukraine Yuriy Lutsenko said that he supports the establishment of anti-corruption chamber of the court instead of the anti-corruption court. "I advocated that this chamber was established on the basis of the existing criminal court, not separately, by the court, and in the middle of the existing judicial institution. This will shorten the path to the practical establishment of this chamber for years," he said.
Earlier, the leader of the BPP Arthur Gerasimov said that his political force advocating the creation of anti-corruption courts, however, the issue in the Verkhovna Rada will not be considered.
Comments
comments