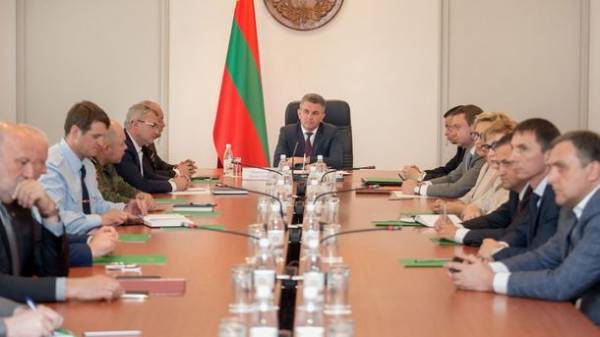 Ukraine banned the transit of food cargoes through the territory of the unrecognized Transnistrian Moldovan Republic. This was during the emergency meeting of the security Council of Transnistria declared the Minister of agriculture and natural resources PMR efimy Koval, official website of the head of "Republic".
Koval said that such a ban on Transnistria's letter warned the State service of Ukraine on issues of food safety and consumer protection, – the "Gordon".
"The authors of the document refer to the chief state inspector of veterinary medicine of Ukraine dated 17 may, which determined that from 20 may pass under the control of goods in transit through the territory of Ukraine, which are sent to Transnistria, will be carried out only upon agreement with the National Agency for food safety of the Republic of Moldova", – said Koval.
According to him, the letter stated that the previous approval of transit through the territory of Ukraine in the Transnistrian issue is "invalid".
The Minister of agriculture stated that "in Transnistria through the Ukrainian port of receives the goods from 29 countries of the world."
Speaking on the potential impact of the restrictions imposed, the Minister of agriculture and natural resources of the PMR noted that in the case of rejection of the goods at the port, "our economic entities will be forced to store them in the garage and pay for a simple cargo on the territory of Ukraine".
In the case of overland movement of goods through the territory of Ukraine, predicted Koval, the probability of their return to the sender to resolve all issues.
Considering the external food dependency of Transnistria, the Minister of agriculture warned that "Ukraine's decision will adversely affect food security of the Republic."
Transnistria declared sovereignty from Moldova in 1990, but the world community the region's independence is not recognized. Autonomy demanded of the inhabitants of this region. In the mid-90s in Transnistria was officially introduced the contingent of Russian peacekeeping forces. Moldova insists on the withdrawal of Russian troops from its territory.
After the Russian aggression in Crimea and Donbas, Ukraine may 21, 2015 denounced the five treaties with the Russian Federation, provides functioning of the Russian military contingent in Transnistria.
On the border with Transnistria, the Ukraine, dug a trench width of 3.5 meters and a depth of 2 to 3 metres, to block the movement of heavy military equipment and movement of contraband goods. The national guard has increased patrols.
The length of the border between Ukraine and the breakaway Republic is 140 km away.
Comments
comments