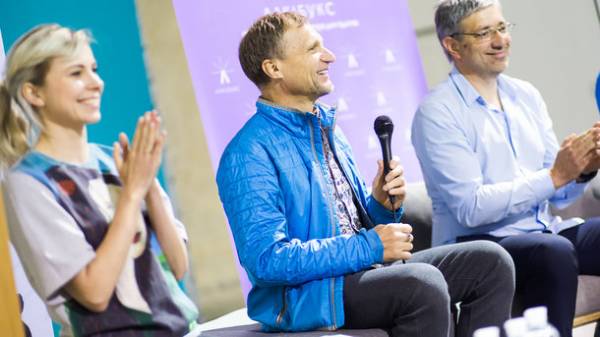 The company Lucky Labs has established a project to publication, translation and free distribution of Ukrainian nauchpop for teenagers.
The expert Council of the project included well-known musician. Today the "Book Arsenal" presented the joint charitable project of the Foundation Likebox "I future of Ukraine" and IT-of Lucky Labs.
The organizers of the project will provide for the preparation, translation, publishing and distribution of printed and electronic books among Ukrainian children. The main focus of the project non-fiction for teenagers 10-14 years in the Ukrainian language.
"This is the most important, – the head of the charity Fund "I future of Ukraine" of March Levchenko. – Good literature, not all parents can afford. So we decided to contribute to the appearance of such books with their own efforts," she said.
"We want to help the emergence of the Ukrainian Ilonov of Moscow", – said the representative of Lucky Labs Anton Ivanov.
The Board of experts of the project included experts in children's literature, culture and psychology. Of them the presentation was attended by Evgeny Miroshnichenko, President of the Association of practical psychologists, and renowned cultural activist Oleh Skrypka.
"Thank God, I can definitely say that we have a boom of children's literature. There are certain publishers that has done a lot, and for the past dozen years make. I have two sons, they are interested in all sorts of novelties. Our house is filled with children's books high quality, some of these books are among the best in the world. I want our project was also the best in the world, so we set the tone in such a world of teenage literature. And, perhaps, our publications will inspire new inventions that will solve many problems: pollution, health and the like. And cool name: lucky books is a happy book. So it'll be cool!" – said the musician.
During the presentation Lacks the organizers and invited the children to participate in choosing topics for new books. The biggest success, according to the survey, teen focus groups, use of Cybernetics and biotechnology.
The organizers of the project promised to consider it in the future in the preparation of books. The first book project has been defined: it was written by Dmitry Kuzmenko, also known as Kuzko Kuzyakin – author of "Blo truski Corno-pracorno books", "Subst puzzles" etc. She will be devoted to mathematics, "from which no escape" and will be released in the fall.
The organizers are also planning educational workshops, lectures, seminars and other events for teenagers. To cooperate with the project invited authors, publishers, translators and illustrators.
Comments
comments