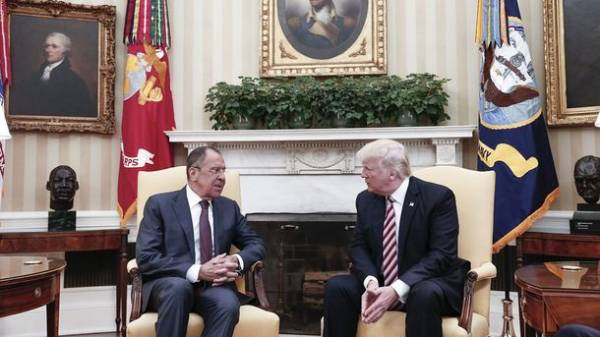 The President of the United States Donald trump during talks in the oval office, told the Minister of foreign Affairs of Russia Sergey Lavrov, and Russian Ambassador Sergey Kislyak, has sacked the head of the FBI James Comey, who investigated RF interference in the presidential elections in the United States. It is reported by The New York Times.
"I just fired the head of the FBI, he's crazy, a real nutcase… I faced a lot of pressure because of Russia. Therefore, it was removed," said trump.
"I'm not under investigation," – said the President of the United States.
It is noted that the document the White house with trump's comments were based on notes from the Oval office and circulated as an official report after the meeting. Information about the topic of conversation officials have confirmed.
At the same time, the press Secretary of the White house Sean Spicer said that trump fired Komi from-for aspirations of the latter to politicize the investigation of Russian interference in the elections of the President of the United States.
"Komi politicized the investigation and put it on display. He created unnecessary pressure, what prevents us to interact and negotiate with Russia", – he said.
According to him, trump has always stated the importance of negotiations with Russia on Ukraine, Syria and the fight against ISIS.
"The resignation of the Komi Republic does not mean the termination of the investigation. I want to note that leaking private and secretive negotiations undermine our national security," said Spicer.
We will remind, the American edition of the Washington Post claims that US President Donald trump has provided sufficient secret information to the Minister of foreign Affairs of Russia Sergey Lavrov, and Russian Ambassador Sergey Kislyak during a meeting at the White house.
According to other media reports, during talks at the White house with the Bay trump could raise the subject of threats laptops on Board aircraft, or transferred to the Russian Minister of secret information about the plans of the terrorist organization "Islamic state".
Also, the media reported that trump received in the oval office Lavrov at the request of the head of the Kremlin Vladimir Putin, for whom the very fact of negotiations was more important than their results.
Comments
comments