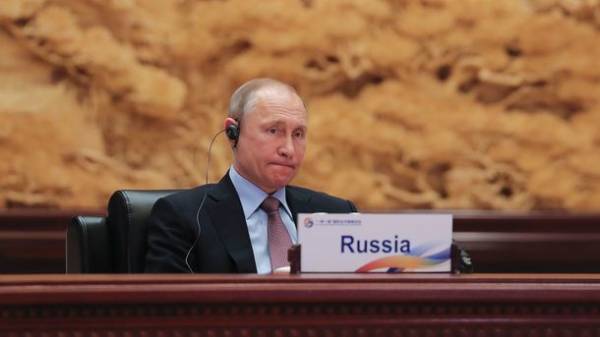 The President of Russia Vladimir Putin today, may 15, two days after the completion of the Eurovision song contest 2017 in Kiev, said that Ukraine is unable to hold the song contest at a high level.
The words of the Russian leader caused confusion and ridicule in social networks, because the Eurovision song contest in the Ukrainian capital was perfect. About this himself said the Executive Director of the competition.
#Cetariu, Vovk again all probuhal? pic.twitter.com/xo3pAUOAEQ
— > Evaya Luganda (@norestfor) may 15, 2017.
SBI from the program rosiyskih propagandists: Putin stating scho mi "not zdat" hold #Євробачення2017 and Ukraine Yogo uspsa ALREADY spent!
— V: seven hundred Kirilenko (@KyrylenkoVyach) may 15, 2017.
Putin: Kiev is not able to hold the Eurovision song contest.
Now the media rush new task – to tell that there was no Ukraine in the Eurovision.
Gray Cardinal (@slevo4kin) may 15, 2017.
"Kyiv is not smoth, provoditi come podbrege scope," Putin
""Eurovacanza" CIV proyshla perfect", – Executive Director of the competition
— Edmond Dantes™ (@deMonte_Cristo) may 15, 2017.
It seems that Putin does not know that the contest is over, and that it took place at the highest level! pic.twitter.com/kBQcJp4xeK
— Poweska Ukraine (@i_army_org) may 15, 2017.
– Ukraine is unable to hold Eurovision
Boy, are you retarded?
– My name is Vova.
– And the last name?
– I don't brake.
vAnilla Love t (@5AllanLeVito) may 15, 2017.
Ukrainians, you heard it? He is not only looked (apparently in NTU, where else), but still unhappy! https://t.co/FRqrGadLSx
— Sarcastic news (@_U_R_I_c) may 15, 2017.
We will remind, in Kiev ended the international song contest Eurovision-2017. The winner this year was 27-year-old Portuguese Salvador Collected with the song Amar pelos dois. The representative of Portugal received the highest score from both the national jury and the spectators of the contest.
A song for the participant from Portugal wrote to his sister, Louise Collected. She also got the win in the special category of the Eurovision song contest "Prize composers" as the author of the best heard at the competition of music. Ukraine this year took 24-th place.
Comments
comments