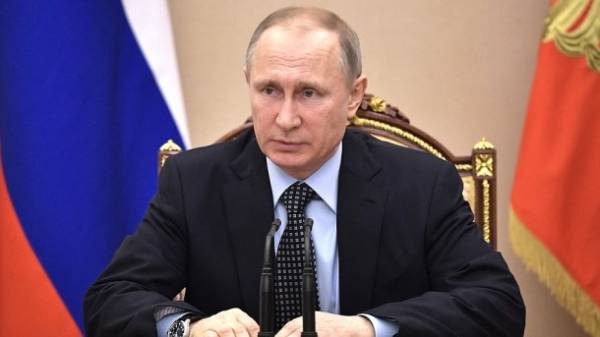 The Kremlin acknowledged for the first time the impact of sanctions on the Russian economy. Published in the new strategy of economic safety of the country until 2030 among the threats to Russia's stability called imposed the economic sanctions. The authors characterize this as "discriminatory measures" against key sectors of the economy, limiting access to foreign financial resources and modern technology, the growth of conflict potential in the areas of economic interests of the country and near its borders. The new strategy proposes Russia to improve the mechanism of introduction of retaliatory measures to sanctions.
Among the main risk factors called the exhaustion of raw materials export model of development and depletion of oil and gas reserves, as well as the absence of Russian non-resource companies among the global leaders of the world economy. Among the main threats to economic security, the document's authors also referred to the shortage of manpower, rising income gap between the rich and the poor.
This strategy, with emphasis on the effect of sanctions and a hint of the depletion of oil and gas appeared on the background of the fall in the world markets oil prices (e.g. Brent crude below $50 per barrel), which was observed from the beginning of may. Yesterday the price managed to slightly raise the expense statements of the Russian Federation and Saudi Arabia's intention to extend the agreement to reduce oil production for another nine months.
Also there was a statement of Centerbank of Russia, net capital outflow from Russia in January—April 2017 reached $21 billion, which is 2.1 times more compared to the first four months of the previous year ($9.8 billion). Earlier, Russian officials were hoping for a slowdown of capital outflow from the country.
The price of oil will fall
"Proven reserves of oil in Russia which can produce enough for 25-30 years. So the new strategy of the Russian Federation is not raising prices on the world market from Putin with panic, — said the "Today" analyst GK "Teletrade" Sergey Shevchuk. — The pricing of oil is influenced by other countries, and the overall balance of power in favor of Russia, since the United States was recently discovered huge deposits of shale oil, they have for the last six months, only increasing production. The information that someone of oil becomes smaller, is only on hand to other countries who are always ready to come up with a new offer, for example, Iran, Venezuela or the United States. From a global perspective, the price of oil will fall, I think even up to $35-40 per barrel, as there is uncertainty over production cuts from OPEC countries, and the United States are increasing their volumes".
Comments
comments