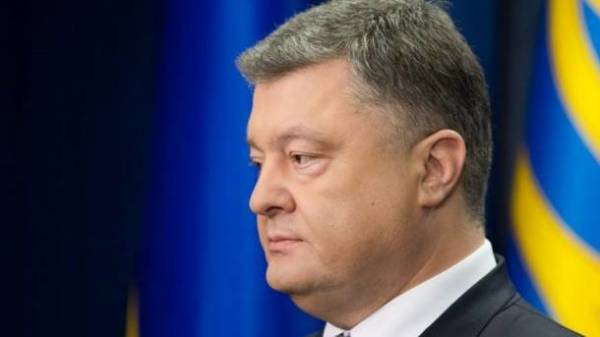 Sources of income owned by the President of Ukraine Petro Poroshenko, the European investment Bank (IIB) is not cooperation with the state bodies and by the Bank are managed by asset management. This was stated by Poroshenko at the press conference.
"The profit is not linked to cooperation with any state position and the Bank is in control of the company on management of assets – as the law requires," he said.
Poroshenko stressed that he could not pass the Bank in a "blind trust" because it is necessary to change the registration of a Ukrainian resident in a "blind trust" cannot be transferred.
He noted that last year, while checking the IIB by the National Bank, its profit was directed to increase reserves, so now the Bank has shown a profit.
"Regarding the composition of the profits – you can make sure that its sources have not changed during my tenure as President," – said Poroshenko.
As reported, the international investment Bank (IIB, Kyiv) in January-March 2017 received 26,818 million UAH of net profit, which is 2.9 times more than in the same period of 2016 (8,993 million).
According to the national Bank on January 1, 2017, the major shareholder of IIB to the President of Ukraine Petro Poroshenko, in total owning 60% of shares.
Minority owners are business partners Poroshenko and first Deputy Chairman of the party "Block of Petro Poroshenko" Igor Kononenko (14,94%), first Deputy Secretary of national security Council and defense of Ukraine Oleg Gladkovsky and the head of LLC "Dnepropetrovsk pilot plant "Energoavtomatika", the Chairman of the Supervisory Board of PRJSC "Ista-Centre" Oleg Zimin (both at 9,9008%).
In addition, the Bank shares are owned by Katerina and Sergei Voroshilina (2,5994% 2,5984%, respectively), as well as the son of the President of Ukraine Oleksiy Poroshenko (0,0061%) and spouse Gladkovsky – Julia (0,000001%).
Poroshenko after the inauguration of the head of state was hired to sell their assets an investment company Rothschild and ICU. However, due to the lack of buyers 14 January 2016, he said the signing of the Treaty, which transferred its interest in the Corporation "Roshen" in an independent blind trust.
According to the President, following the "Roshen" on the management of a trust will be re-registered international investment Bank.
The IIB was founded in 2008. According to the national Bank of Ukraine, January 1, 2017 to total assets (6,893 billion) the Bank occupied the 25th place among the 93 active banks.
Comments
comments