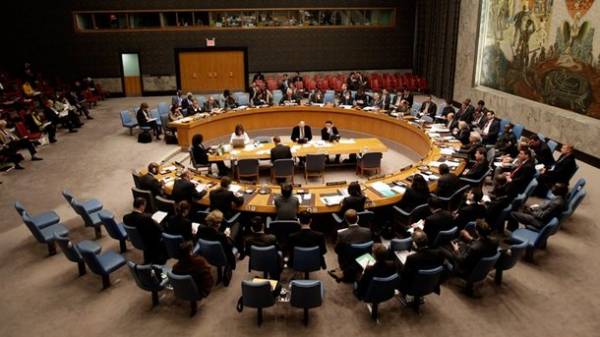 North Korea called on the international community not to comply with the UN security Council imposed sanctions, yet the UN can not explain their legitimacy. This is stated in the letter of the permanent mission of the DPRK to the UN, sent to the missions of States members of the world organization.
The mission of the DPRK on Friday appealed to the representatives of all member States and observer States at the UN with a request to "reconsider steps for implementation (resolutions — ed.) while the legality of these "sanctions resolutions" will not be clarified". Of Security Council resolutions, Pyongyang has called "fabricated against the DPRK".
The mission also issued a press release, Recalling an earlier requirement to hold a legal conference on imposed country sanctions. "The UN security Council before taking any further pressure and force countries to implement (resolution — ed.) should try to understand why these "resolutions" are not met, and clarify their legality on the forum, which requested the DPRK," — said in a statement.
The DPRK in March asked the UN to hold international legal conference on the legality of the imposition of Security Council sanctions against the country. As noted in the letter, the response from the Secretariat in Pyongyang has been received.
Since 2006, the UNSC adopted six resolutions against North Korea to force Pyongyang to abandon its nuclear and missile development. The last two — room 2270 and 2321 were adopted in 2016, and significantly tightened the existing sanctions regime against Pyongyang, including measures in the field of trade, the export of minerals, purchase of weapons and the banking sector.
Adopted by the UN security Council in March 2016 resolution 2270 prohibit the supply of aircraft and rocket fuel in the DPRK; all goods coming in and out of the country, will be subject to inspection. The document also prohibits the sale of all of the DPRK of conventional arms; significantly restricts exports of the country's coal, iron, gold, titanium and rare natural minerals. In some cases, States are required to send DPRK citizens, including diplomats. Also introduced financial sanctions against the Bank of the DPRK. It was decided to ban the export to the DPRK of luxury goods: from luxury, private boats, snowmobiles. In November 2016, after the DPRK conducted a nuclear test, the UN security Council adopted resolution 2321, even more tightening sanctions to force Pyongyang to abandon its nuclear and missile development.
Comments
comments