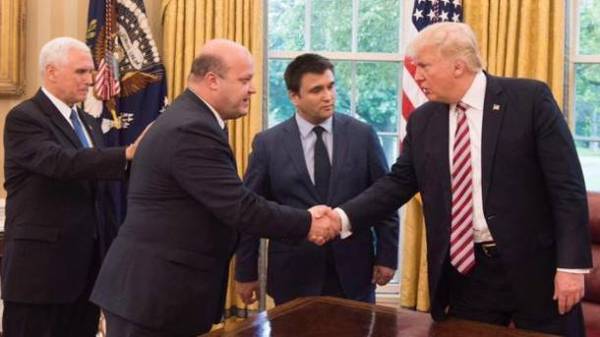 The meeting of the head of the Ukrainian foreign Ministry Pavel Klimkin and U.S. President Donald trump began with a discussion of the situation in Ukraine. This was at the briefing in Kiev, said Klimkin.
"What was very important for me in Washington? Of course, it is a political signal that the US is and will be our most important friend, ally and partner. This, of course, it is very important that the United States will continue to support Ukraine. But you saw, and this, incidentally, was in the White house statement, it is also a clear signal of who is responsible. What Russia is responsible for what happens to us, for the war against Ukraine. The fact that Ukraine is one of the top priorities for this Administration, it is also very important. The results of these meetings are not only important in a political context and in the context of the atmosphere and desire to support us", – said the Minister.
Secondly, according to Pavlo Klimkin, USA is ready to continue to engage in to force Russia to implement the Minsk agreements. "This is one of the key priorities. In what form? This can be in the form of separate dimensions, which, of course, be very closely koordinaten with the "channel format". It may be a variant of the parallel involvement of the United States of certain aspects of cooperation in the framework of the "Normandy format". This can be a parallel process. That is exactly what we are discussing now", – said the head of the Ukrainian foreign Ministry.
According to the Minister, as soon as consultations with the partners in the "channel format", and once determined, what will be the forms of participation of the United States, the parties will embark on the path of preparation for the meeting of the President of Petro Poroshenko with Donald trump.
Earlier it was reported that Klimkin during his visit to Washington and meetings with US President Donald trump and Vice-President Mike Pence discussed with the American side , the opportunity of bringing the United States to resolve the situation in the Donbass, including in the Normandy format.
Comments
comments