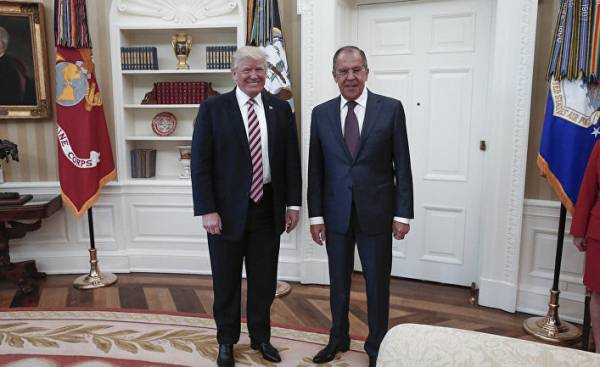 Welcome, this is Russian humor.
The official position of Sergei Lavrov, Minister of foreign Affairs of the Russian Federation, but his visit to Washington on Wednesday will be remembered not some diplomatic breakthrough, but only undisguised and scathing irony of Lavrov and his ability to provoke opponents. His manner of speech reflecting the speaking style of his boss, Vladimir Putin, often criticized as not appropriate for a diplomat. But I would say that Lavrov knows what she's doing, and that it's a way of expressing ideas.
In Washington, Lavrov depicted the surprise, asked the American journalist, who asked his resignation on Tuesday, FBI Director James Komi (James Comey): "he was fired? Are you kidding me! You're kidding!". The Russian foreign Ministry not without malice have posted this video on Twitter.
In addition, he is in violation of Protocol led to a meeting with President Donald trump photographer of the state news Agency TASS as their official photographer. TASS immediately published pictures of trump, radiantly smiling his Russian guests — Lavrov and Ambassador Sergey Kislyak — which clearly pleased with the reception accorded them. Given that representatives of the American media was not allowed to meet, these exuding the joy of photography of the Russian propaganda source has caused outrage.
In the statements of Lavrov always felt the sarcasm, provocation and desire to bring the sides out. It constantly amazes Western interlocutors are rude or offensive remarks.
At a recent meeting of Ministers of NATO countries the U.S. Secretary of state Rex Tillerson pointedly noted: "to Dance the tango with the Bay not because he this dance is to dance not allowed". He was referring to the fact that politics in Russia is determined by the President Vladimir Putin, and Lavrov was not empowered to conclude agreements. The Russian foreign Minister said: "I… mother forbade the boys to dance."
In the style of Lavrov in line with the style of his boss. In 2006, Putin, as you know, asked the Prime Minister of Israel Ehud Olmert (Ehud Olmert) to say Hello to then-President Moshe Katsav (Moshe Katsav), who was accused of rape and sexual harassment against women: "Say Hello to your President! Was a very powerful man! Ten women were raped! I never expected from him! He surprised us all! We all envy him!" The Kremlin, which then his statements were more sensitive, had to explain that Putin is in any case not approve of violence and that his words were a joke, which is rather difficult to translate.
Horseplay Putin has often been written off, explaining to them that he spent his childhood on the streets of St. Petersburg. And his manners are honed not more than was necessary for the intelligence officer who served in the former GDR. Lavrov is a highly professional diplomat. He knows the Protocol, speaks three languages, not counting Russian, and in terms of its tastes and interests, is a man refined. Even his poems (although brilliant, not exactly) it is written quite skillfully and not cause such feelings of annoyance and embarrassment as poetic attempts of many other Russian officials.
Lavrov knows very well how his statements sound to Western ears. He also understands that in the English speaking world — and particularly in the USA, sarcasm and ridicule are often considered to be unprofessional and seen as a sign of bad manners. And yet, he continues to say what any Western diplomat would be fired, to play the sarcastic Comedy and give a coarse joke on the level of the student.
His demeanor he makes it clear that the Russians on their terms don't play. But he does not boast of the size of Russia and its nuclear Arsenal — it is rather a provocation, a challenge.
Putin's Russia entered into an Alliance with the Western populist forces, the position of which — the anti-political correctness and the accompanying constant self-censorship — very impressed voters. During last year's election campaign in the US I have said many times that trump's tendency to use foul language is its most attractive quality. The same is said of the Dutch on the Gert Wilders (Geert Wilders), and the French — marine Le Pen (Marine Le Pen). The freedom to say whatever you want, not thinking about the fact that these statements can be interpreted completely differently (as sexist, racist, homophobic or offensive), is, according to many voters an added advantage.
The Russians after the collapse of the Soviet Union use their freedom and say what they want, expressed with ridicule and sarcasm, using coarse and informal language, acting provocatively, and thus radiate confidence. Swearing in the workplace, lack of respect for decency and the requirements of the Protocol, the lack of linguistic and ideological framework — that's what has made society just cast off the Communist straitjacket.
Michael Gorham (Michael Gorham) in his book "After Newspeak. Language culture and politics in Russia from Gorbachev to Putin" ('After Newspeak: Language Culture and Politics in Russia from Gorbachev to Putin', 2014) writes: "One of the obvious reasons post-Soviet restraint in relation to Western concepts of political correctness is that the Soviet era acted as the state form of political correctness, which was widespread and exaggerated. Boilerplate is widely known wooden language of official speeches, documents, and Newspapers have assumed a degree of dominance that Gorbachev's era of protests against this system, he became a symbol of all that is wrong with the system."
In recent years, Russia has experienced the negative effects of this unlimited freedom. The arrival of Western corporate culture and admiration of many intellectuals in the West adopted a more decorous, edited discourse is one of "line of attack". From the opposite side, acting Russian Orthodox conservatives. Strict laws contribute to the eradication of the language of cinema and theatre obscenity and blasphemy, which were widely distributed. To speak on topics of religion has become dangerous. Public discourse has become more calm and restrained.
Lavrov is a pleasure to present Russia as politically incorrect — Russian Embassy in the UK posted on Twitter a photo of making a selfie of Darth Vader with a sarcastic signature with a call to go to "the dark side": "come over to our side — the day "Star wars" follow us on Twitter on #StarWarsDay". And it works. Western diplomats under the influence of the trolling on the official Russian sites started to respond in kind.
In Russia the emerging new kinds of political correctness — and the Pro-Putin camp, and among those who oppose it. Although, as stated on the export Lavrov still can offer the Russian post-Soviet spontaneity and disregard for the rules. What other foreign Minister would be allowed to scroll to the Voicemail on the hotline of the Ministry of the English text, in which callers are asked to press "3" to intervene in the election? But Lavrov can. It is his a method of promotion Russia. He suggests that it is a more liberal country than its Western opponents.
In my opinion, the big problem with Laurel is not that he is eccentric and inclined to go beyond the limits of decency — in the spirit of the early post-Soviet era. The problem is that such a demonstration of inner freedom is hypocritical and cynical. Behind that facade is the policy of lies and violence. And knowing this, it is difficult to enjoy a sense of humor Lavrov.
Comments
comments