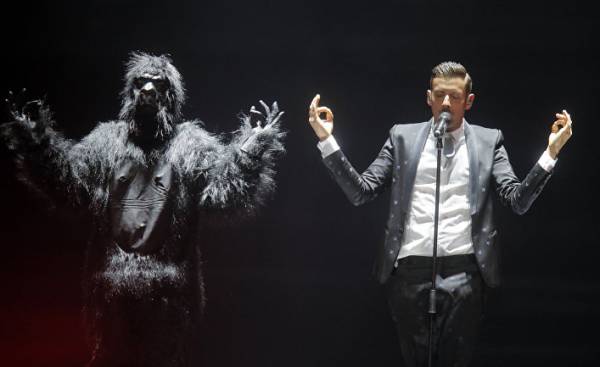 The participating countries of "Eurovision" was amazed when in 2016 in Stockholm revealed that next year the song contest will hold on the mutilated crises in Ukraine. Before "Eurovision" scandal: Russia banned due to the fact that the representative of the country Yulia Samoilova acted in Crimea, annexed by Russia Peninsula. Many argued whether it is possible to hold "Eurovision" because of the unrest in Ukraine and the crisis in Crimea.
Now vengeance semifinals of "Eurovision", and the fans and the media seem to have completely forgotten what it's like where is the song contest. In social networks, being hard discussion: the organization of the competition is lame, the host country in between participants less sense than usual. Yes, it's true. This year the level of "Eurovision" is a bit weaker than usual.
Representatives of Western countries should look in the mirror and think about the terrible situation in which Ukraine is now. The country is facing the biggest bloodbath since the 90-ies. The conflict has killed more than 10 thousand people, about two million people were forced to leave their homes.
More clearly the problem can be demonstrated with the aid of kilometers. From Kiev to Donetsk is about 800 kilometers. From Helsinki to Rovaniemi (a city in the North of Finnish Lapland) is about the same. Could we, the Finns hold "Eurovision" in Rovaniemi if there was a war against Pro-Russian rebels? It is striking that the Eurovision fans can close their eyes to the events that happen so close.
Yes, it's true: the qualifying stages of the Eurovision are not on the same level as in previous years, in Stockholm or Copenhagen. However, the Ukrainians wanted to hold a "Eurovision" and they were wonderful dealing with it.
It is clear that Finns are upset that the band Norma John, representing the country, was eliminated from the competition, but no conspiracy theory behind it. The song is good, but this time she did not receive a sufficient number of votes.
According to the rules of "Eurovision", to sing about politics on stage is prohibited. The rules, however, has been for many years one way or another bypass.
The main contender to win this year — the representative of Italy Francesco Gabbiani (Francesco Gabbani) with a gorilla. The performance of the man seems pretty fun, but the words are serious: specifically in the song is, that all men are ultimately found only in the power experiences as a monkey. Probably, if this is true, then Gabbiani will be the winner this year.
Comments
comments