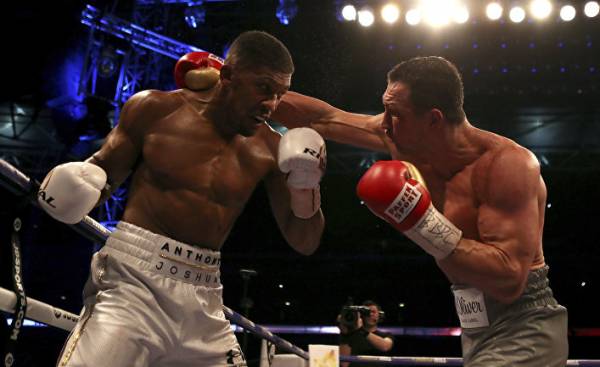 A year and a half ago, the world had a new heavyweight champion, and it happened in the moment when the unpredictable Englishman named Tyson fury (Tyson Fury) has found a way to defeat the powerful Ukrainian Wladimir Klitschko. Klitschko with his brother Vitali rules in the heavyweight division in the decade — it was impressive to the Board, but not always exciting, especially after the quality of their performances by many was recognized as low. Win fury has been a big disappointment and a big surprise for many fans of Boxing. Finally the sport has a new star — a fierce and restless giant, which seemed to confirm the idea that the world champion on Boxing in heavy weight needs to be not only an athlete, but also to have a strong character.
However, the main problem with fury is that it is not very interesting during a Boxing match — in particular, his fight with Klitschko was pretty mediocre and unconvincing performances, it has attracted attention only in retrospect, when Boxing fans realized that the reign of the Klitschko brothers ended. The second problem was connected with fury — an impression that isn't interested in Boxing. Fury shifted to Klitschko's throne, on 28 November 2015 and after that he never had a fight. Twice he refused to participate in the rematch against Klitschko, and then announced the end of his career. He said — his words may have been true, but was not particularly encouraging, is that Boxing is a "pile of crap".
Klitschko went into the ring after losing to fury, and so continued until last Saturday, when he returned to take part in the largest event in the world of Boxing over the last decade — we are talking about the match against Britain's Anthony Joshua (Anthony Joshua), which in the absence of the fury was the biggest hope of his country in the heavyweight division. Joshua boxer has impressed, however, to a certain extent, it could not be considered experienced boxer during his career, he had 18 fights, mostly with little-known boxers, and all of them he knocked out. It was clear that Klitschko will be the most serious opponent for Joshua. However, Boxing fans usually are cynics and pessimists, and so many of them reserved the right to say — after the battle — what about Joshua's was too much noise in the media, and that Klitschko is 41 and he's just getting too old.
For the cynicism and pessimism of Boxing fans there are, doubtless, good reason. This sport is divided between rival corporate groups and determine which matches will take place, and (most often), which will not. Too often the audience is requested to pay for the games that are parodies of Boxing matches — for example, next weekend Mexican star Saul (Canelo) Alvarez (Saúl Canelo Álvarez) will fight with Julio Cesar Chavez Jr. (Julio César Chávez, Jr), a rather strange son of Mexican legend, and the game will be broadcast on TV, working on the principle "pay and see". For watching this match you will have to pay about $ 70. As for bookmakers, they appreciate the favorite for this fight Alvarez as minus 650, and this means that betting people will pay $ 650 to get $ 100. This fight is presented — and aggressively pointless — as a protest against the immigration policy of Donald trump.
In contrast, held last Saturday match was one of those that fans of other sports perceived as a matter of course — as a meeting of two of the best athletes in the world with relatively equal chances of winning. And it was broadcast live on Showtime — he has replaced HBO as the main Boxing channel, not on the system "pay and see". Would not be quite correct to say that it was a real battle for the title of world champion in heavy weight (When the champion leaves, as did the fury, is assigned a new champion duel of two main contenders determined on the basis of consensus. However, in this case, it takes some time to achieve the necessary consensus). However, there was no doubt that the winner of Saturday's match will win a most impressive win in recent history in this category — either old Boxing legend will restore its status, or will be new.
Growth Wladimir Klitschko is 198 cm (six feet and six inches). It disturbs less tall opponents with his jab and constantly straightened right hand — so the older brother usually puts his hand on the forehead of his younger brother. In the battle against surpassing it in growth fury Klitschko had bound the opponent and were actively moving. And in battle against Joshua, the growth of which is also 198 centimeters (6 feet, 6 inches), Klitschko also attempted to own the initiative. Joshua was supported by young and furious fans, and the fight was held at Wembley stadium, in the presence of about 90 thousand spectators. Klitschko had a visible desire to win, and even attended his jab, that is a blow that has long been considered the sport's most effective weapon.
From the outset, Klitschko and Joshua differed from the usual fights, and so it was with most of the great fights. At the beginning of the fifth round of the 12 scheduled Klitschko became actively work legs and back, and Joshua was following him. Finally, Joshua was able to send his opponent down with a left hook followed by a series of blows and when the referee stepped between the rivals and began its countdown, Joshua threw up his hands — he wanted to show that he had ceased to strike, or has already started to celebrate their victory. Maybe a little of both.
Maybe at this point some fans began to ask himself — is there another Ukraine city where you need a muscular mayor? However, Klitschko was able to recover before the end of the reference judges, although Joshua continued to strike blows, Klitschko was able to recover, which was amazing. At the end of the fifth round, Josh started to postebatsya, he was breathing heavily, and often "hung" on Klitschko; the impression was that they held a series of strikes cost him more effort than his opponent. In the sixth round, Klitschko made a quick and hard strike right after which Joshua fell on his back and rolled over, leaning on her hands and knees, but then stood on his feet before the end of the account of the referee. After that, he looked much more shocked than Klitschko in the previous round.
Somehow, Josh managed to recover. This was a great fight — both fighters have shown that they are vulnerable when applied to strong shocks, and both of them have demonstrated their ability to recover. However great this fight did what Joshua has received some inexplicably extra energy, in the 11th round took the initiative. We later learned that, in the opinion of the judges, Joshua to this point a little ahead of his rival on points, but Klitschko was able to achieve a draw, if he won the 11th and 12th rounds.
However, then came something more exciting — Joshua held a right uppercut to the head, and then with a series of blows sent the opponent on the floor. Klitschko was able to get up, but Joshua is once again knocked the opponent off his feet — he pressed him to the ropes and sent down. Klitschko was able to climb again before the end of the account, but the referee is carefully looked at him, and when Joshua drove back him into a corner, the referee stopped the fight and declared Joshua the winner — thus, he became king at heavyweight, absolutely undisputed champion, the greatest new star in Boxing. And the victory was awarded to him by TKO.
Joshua was gracious after his victory, he praised Klitschko, and in his post-match interview sent the message seemed to be charged with inspiring the meme in Instagram. Klitschko still has the right to a rematch, but he didn't say whether he wants it or not. On Tuesday, he wrote on Twitter: "I'll be back!" But, it may be even more interesting to see a fight with Joshua DevTeam Wilder (Deontay Wilder), it is bright, but has flaws American heavyweight. Another option is Luis Ortiz (Luis Ortiz), the impressive Cuban boxer, who is still suspended from participation in competitions for the use in 2014 of nandrolone, a banned steroid. And finally, there is another British heavyweight champion, whose reign began and, as it turned out, ended in the same evening in 2015. After the battle, without leaving the ring, Joshua said: "Tyson fury — where are you, buddy?"
Of course, fury said that he is ready to fight immediately. "I am confident that I can beat Anthony Joshua, and with one hand I will have tied behind my back", he said.
Might battle Joshua's fury will be the biggest Boxing match in British history, his incredible play, even if it ends in a crushing defeat, will be boring, will be a fiasco — or a bloated media event that will always be delayed, but in the end did not take place. Boxing fans will not be surprised by any of these scenarios. Apparently, Boxing fans were more surprised by the fact, happened on Saturday evening when the championship fight in the heavyweight division was just awesome, how it should be. And in that moment — at least within the hour — it was possible to believe that fury is wrong, and Boxing, in fact, is the greatest sport in the world — or at least it is not a pile of shit.
Comments
comments