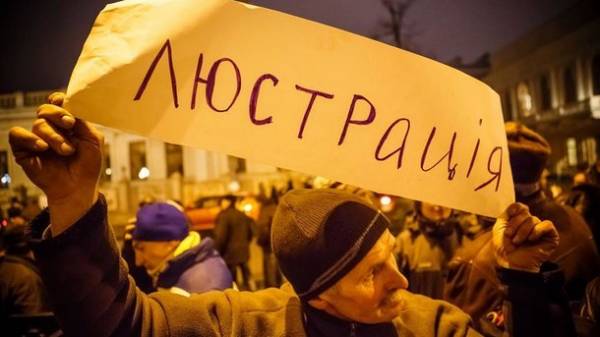 The process of cleansing of the Ukrainian authorities was completed 98%. This was stated by the head of Department of questions of lustration of the Ministry of justice of Ukraine Anastasiya Zadorozhnaya, reports DW.
"Lustration inspection of higher authorities was carried out decentralized. The Prosecutor General's office, Ministry of internal Affairs, SBU, Ministry of defence, courts, Ministry of justice – all the state bodies and bodies of local self-government shall independently verify their employees. Since the entry into force of the law "On cleaning power" was provided for 10 days to check personnel to meet the criteria of the law on lustration," – said Zadorozhnaya.
According to her, dismissed those officials who fall under this article.
"Sometimes people independently wrote the application on dismissal. Then, these agencies and authorities have conducted their own internal audits. And already the latter was on the results of the lustration our Department. I can say that the power is cleaned to 98 percent," – said the head of the Department.
The main lyustrator of Ukraine said that the competition Commission is constantly sent to the Department for consideration of personal files of candidates for various government positions.
"The law should work as a filter. For example, someone in 2010-2014 held the position that the law falls under the lustration. But even before the adoption of the law "On cleaning power" this person has resigned," explained Zadorozhnaya.
In addition, she said, the Department maintains in court proceedings, act as the third party in the courts. "Today we have more than 50 cases, and most of them are just attempts to be reinstated," said she.
As reported Zadorozhnaya, at the beginning of the work of the Department was defined around five thousand people, which had to be applied a ban on posts. For today in the register – 935.
"Part came under automatic lustration, some went on their own before it began. Although there are cases when courts by their decisions were taken some positions from the application of articles of the law, then government officials keep their positions," – said the head of the Department.
We will remind, Anastasiya Zadorozhnaya headed the Department for lustration of the Ministry of justice of Ukraine in April 2017.
Comments
comments