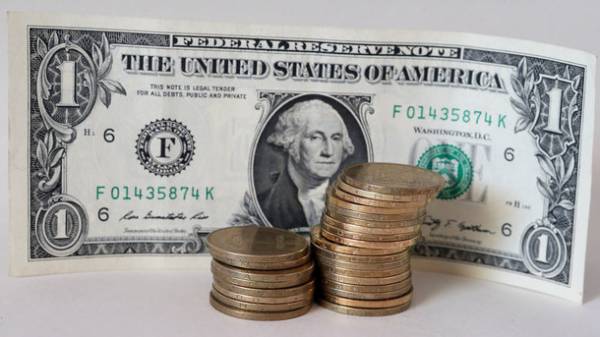 Today, may 10, the national Bank of Ukraine (NBU) has established such rates of major foreign currencies against the hryvnia:
1 USD – UAH 26,5;
1 Euro – 29,05 UAH;
10 Russian rubles – 4.52 UAH.
Thus, the dollar, compared to yesterday's values rose by two pennies. Lower 26,6 USD dollar did not fall from the beginning of January 2017.
The Euro rose to nine cents, breaking the mark of 29 UAH. The Russian ruble is "lost" from eight cents.
Friday, 5 may, the dollar on the interbank currency market of Ukraine has risen by two cents in the sale and purchase. The auction ended with quotes 26,48 – 26,51 UAH/USD. Today's auction has not started yet.
As experts explain, the main reason which lasted from January to strengthen the hryvnia – the excess of foreign currency supply over demand, which provides a favorable external environment for the main export commodities.
This week, the growth of non-cash hryvnia, analysts of "Alpari", may be suspended, and the cash market may further strengthen the minimum.
Thus, according to experts, the hryvnia exchange rate in the cash market in may can be in the range of 26 to 27.5 UAH per dollar. But in the case of a negative scenario associated with the influence of external factors, the rate can go into the higher price range is 27.5 – 29 UAH per dollar.
In 2017, the Finance Ministry of Ukraine expects the rate of 27,2 USD per dollar. The head of the NBU Valeria Gontareva considers budgeted-2017 the dollar is realistic. At the same time 2017-1018 year, according to calculations of the Ministry of economy, the dollar could jump up to 35 UAH;
For 2015 , the hryvnia depreciated by half, and for 2016 , the hryvnia depreciated by 12.9%, entering the TOP 3 of the weakest currencies of the CIS;
According to the "big Mac index" , the dollar in Ukraine has to cost a little more than 8 UAH;
The historical maximum the official rate of the dollar – 30.01 UAH/USD. – was made in Feb 2015.
Comments
comments