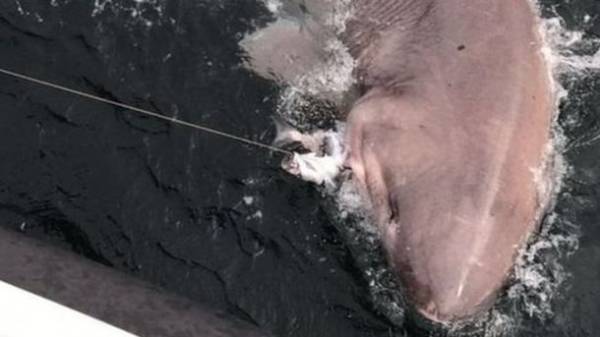 Fisherman caught off the coast of Ireland the giant sixgill shark with a length of about seven and a half feet and weighing about 680 kg, writes BBC Russian service.
This is the biggest shark of this species ever caught in Europe.
Englishman Ben bond a half hour alone fought a huge fish.
After a grueling fight he managed to raise production to the surface and take a picture. He then shot the shark from the hook and released.
Sixgill shark – biggest shark of the family mnogomernyh. It lives at great depths and feeds mainly on fish, including smaller counterparts, but sometimes hunts and seals.
According to the encyclopedia, the size of sixgill sharks do not exceed 5.5 metres.
26-year-old anglers previously had the opportunity to catch sharks, but such large fish before he was hooked.
In conversation with bi-Bi-si he said he felt no fear while he pulled out a giant shark, and even looking right into her jaw, which, he said, had been "very massive".
"Perhaps the most enjoyable was seeing how she was sailed. I didn't want to kill such an amazing creature," admitted bond.
In the management of fisheries of Ireland called the photo caught sharks and called it "a real monster of the deep sea".
"As the shark was released and she was weighed on shore, the exact weight it is difficult to call. However, it seems that this shark is one of the biggest fish ever caught in Europe," said bi-Bi-si the representative office.
"This industry legal," she added.
In Ireland allowed sport fishing in which the fish are not killed, and let go at will.
Comments
comments