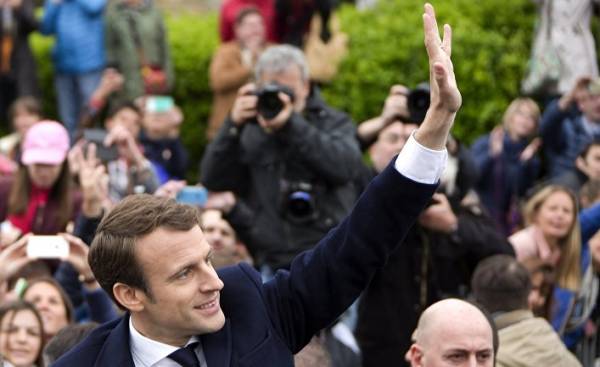 According to official figures, at the election of the President of France, held on Sunday, may 7, a leader, independent candidate Emmanuel macron. The results of counting 100% of the ballots, 39-year-old leader of the movement "Forward!" has received the support of 66.06% of voters reported in the night of Monday, may 8, the French Ministry of the interior.
For the rival the Makron, leader of the right-wing populists marine Le Pen voted 33,94% of voters.
"Opened a new page of our history, the page renewed hope and confidence," said Emmanuel macron.
Le Pen admitted defeat
Marine Le Pen admitted defeat in the second round of the presidential election. She called Him and congratulated him on his election to the highest office.
Speaking after the elections, Le Pen has described as "historic" the result as the candidate of the movement "national front". Her party, from the leadership which it was suspended after the first round, will become the main opposition force during the presidency of Makron, she said.
The Prime Minister of France congratulated the Makron
The Prime Minister of France Bernard Cazeneuve congratulated Him on his election as President of the Republic. It is a victory for all the French people who want France was progressive and successful, said in a statement that the head of the French government posted on its Twitter page.
"The victory of Emmanuel Macron confirmed that the majority of citizens support the values of France and are members of the European Union and the openness of a country relative to the world," said outgoing President Francois Hollande.
The turnout was equal to 75.4 per cent. 9.4% of the election ballots declared invalid. This is the highest rate in the elections since 1965.
On the day the vote was taken stringent security measures. The order was guarding more than 50 thousand policemen and gendarmes, as well as 7 thousand troops.
What to expect from Macron?
Emmanuel macron, an independent technocrat, a liberal, an advocate of the EU and the Eurozone. He advocated a free market, tells about the benefits of globalization and supports the idea to strengthen the external borders of the European Union, without prejudice to the freedom of internal movement. Makron expressed the intention to create a Eurozone Parliament, the Finance Ministry and a separate budget, as well as to raise tariffs within the Eurozone to protect European industry from unfair competition, particularly from China.
Policies for cultural diversity, he, in particular, offers tax breaks to companies that hire young employees of the "problem" of urban areas predominantly populated by migrants. Before the election he also promised to expedite the processing of applications for asylum.
Macron takes a clear anti-Kremlin stance, he probably will continue the line of political pressure on Moscow's policy towards Ukraine and President Bashar al-Assad.
Comments
comments