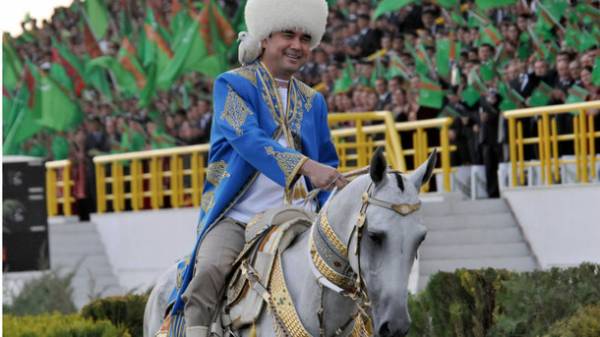 On Saturday in Turkmenistan, on a festive horse race on the occasion of Day of Turkmen horse (marked on the last Sunday of April) won the country's President Gurbanguly Berdimuhamedov, reports Сomments.ua.
Horse race jockeys mentors at a distance of 1.2 km was held in the presidential Akhal-Teke equestrian complex near Ashgabat. In addition to the President in the race was attended by six experienced riders, one from each of the five regions of the country and the city of Ashgabat.
As announced by the announcer at the racetrack, the presidential horse – Akhal-Teke stallion dark buckskin suit Miras (Inheritance) raised and prepared for racing grandson of the head of state Caringola Berdimuhamedov, who brought the horse to my grandfather. Gurbanguly Berdimuhamedov on the Day, breaking the distance in 1 minute and 25 seconds, won and received a prize check in the keys of Toyota Land Cruiser Prado.
The head of state handed over the car keys to the Deputy Prime Minister on issues of agriculture Esenmyrat Orazgeldiev, with the words: "orazgeldyev, I officially give this prize to the needs of the breeders".
Video of celebrations in Turkmenistan was struck by users of social networks. Some of them drew Parallels between the head of Turkmenistan and the movie character "the Dictator" British actor Sacha Baron Cohen.
Comments
comments