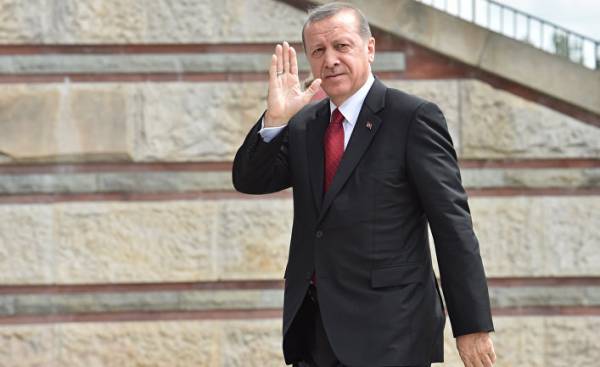 After almost two and a half weeks after the referendum on the introduction of presidential system in Turkey, President Recep Tayyip Erdogan began to transform the political system.
At a ceremony on Tuesday, Erdogan came back in he founded the "Party of justice and development" party (AKP), which he single-handedly headed since 2002. At a special party meeting on 21 may he was again elected Chairman of the AKP.
Still the President was forbidden to belong to any party. When in 2014, Erdogan was elected to the highest post of the country, he handed over the chairmanship of the AKP and formally severed its ties with the party. But in a referendum on 16 April, the Turks (with a small margin) voted for a constitutional reform; after the transition to a presidential system, almost all power is concentrated in the hands of the President. This includes the possibility of returning to the party. "After 979 days, the dream of God came true," Erdogan said to his supporters. Now the AKP will become even "more determined and strong."
Critics complain that the principle of separation of powers in Turkey will be effectively repealed. In the future power structure of the leadership of the party will be a special feature. This will help Erdogan to gain more influence in Parliament, especially when it comes to important personnel matters and the allocation of senior posts in the justice. At first it seemed that Erdogan is not in a hurry to return to the presidency of the party. The current head of the AKP, Prime Minister Binali Yildirim, has ruled out a special session after the referendum. That is, the transition has been held only in 2018. Obviously, Erdogan did not want to wait that long. In the fall of 2019 will be the first elections of Parliament and President by the new rules. "We have to use the time till 2019," he said on Tuesday at the headquarters of the AKP. "We will close our ranks and continue to move forward."
In the referendum, Erdogan won with 51.4% of votes, this is much less than he expected, despite the fact that the government and the party mobilized all the resources. The opposition doubts the result of violations. In any case, the result gave a deep lack of confidence in the AKP. In the real election in two and a half years, Erdogan must obtain more than 50%. He demanded changes to the party. "We will work even more efficiently, more openly," he said. "You can't just meet people who support us".
Earlier, one of his advisers said on TV that one party functionary of the government, apparently, has gone to his head. In Ankara claim that we can expect many changes in influential positions. In addition, we discuss the reshuffle in the government.
Comments
comments