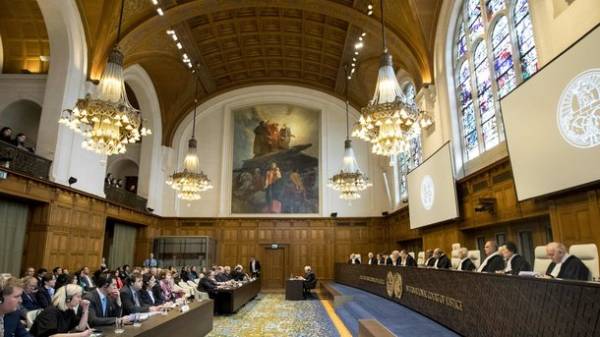 The international court of justice in the Hague the day before, 19 April, adopted the first decision under the claim of Ukraine against Russia. The claim is satisfied only partially.
Kiev failed to achieve the recognition that Moscow is financing terrorism in the Donbas. Don't have enough evidence. But the court ruled that the Russian Federation in the occupied Crimea must refrain from imposing restrictions regarding the Crimean Tatars, to allow the activities of the Mejlis of the Crimean Tatar people and to provide education in the Ukrainian language.
Due to the fact that the claim was not fully satisfied, in social networks, raised a wave of indignation. However, many Russian politicians and bloggers have stated that not everything is as bad as it seems, Ukraine is on the right track.
Have Gas we otrimali bagataway rsena, after oboh at the ship's patwah of Ukraine to the Russian Federation Bula Vijnana the jurisdiction of the International court of justice pic.twitter.com/kYhKzNHgLI
— Petro Poroshenko (@Poroshenko) on 19 April 2017.
Rosiya got immediately address supinity rasovo discrimnate. We will pracowali wilena over the command of the International court of justice, dwellers, supinity agresora. #ICJ
— Pavlo Klimkin (@PavloKlimkin) 19 APR 2017
To komentaru schodo rsena ICJ -Court, middle nsogo, also visnaw Russian side minskogo processes. I TSE nadalia! Rsena yea obov cases.
— Mariana Betsa (@Mariana_Betsa) 19 APR 2017
Peremoga Bula Russie b vdova Min. the court in Bratislava to rozpadu Ukr. pozov. Whether yaky different result – TSE Peremoga Ukraine. Dali bude court.
— Dmytro Kuleba (@DmytroKuleba) 19 APR 2017
The court of justice pointed out the inadmissibility of prohibition of Assembly and access to education in the Ukrainian language in Crimea. And in the Donets basin referred to the "Minsk" pic.twitter.com/b8zFWHqMCo
— Nikolai Polozov (@nikolai_polozov) 19 APR 2017
Posluhaev on the mirror things only. Said scho TSE for us rsena court Peremoga, Bo smut scho visnaw court jurisdiction under the conventions.
— Drevlyanin (@freeukrman) 19 APR 2017
According to the International court of justice in Ggage.
1. The court took the case to – this is important.
2. Restrictions under the Convention on discrimination of races accepted
— Emmet Brown (@IncredibleEmmet) 19 APR 2017
Comments
comments