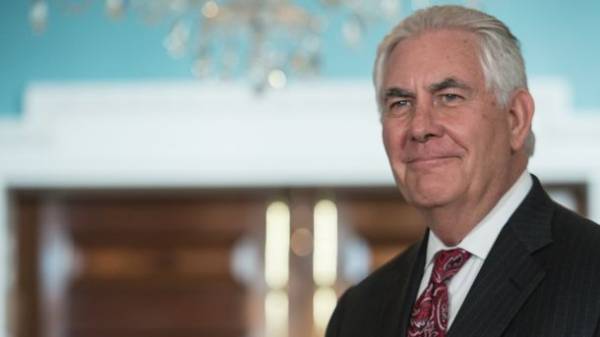 Secretary of State Department of the United States of America, Rex Tillerson admits that the cooperation between the U.S. and the Russian Federation concerning settlement of the situation in Ukraine is possible in case of restoring a certain level of trust between the two countries.
He said this during his address to all employees of the State Department, which was broadcast on the Agency's website. He called the question of the resumption of cooperation with Russia one of the priority directions of work of the state Department.
In this regard, Tillerson acknowledged that it is part of the bilateral cooperation with the Russian Federation regarding the situation in Syria.
"But we have other issues with Russia, and as you all know, in Europe, and the situation in Ukraine," said Tillerson.
The state Secretary recalled that during his visit to Moscow, he described in a conversation with Russian President Vladimir Putin, relations between the US and Russia are at the lowest level since the end of the cold war.
Tillerson says: "He (Putin – ed.) could not agree more".
The head of American diplomacy said that relations between the US and Russia even worse.
"And my remarks to him (Putin – ed.) was that we can't have two advanced nuclear powers in the world. We must change this," said Tillerson.
Thus, according to him, both countries should take steps to first stabilize relations.
"And the acting Deputy Secretary (Thomas) Shannon directs the efforts of the working group to find out if we can tackle some of the issues which cause irritation in the relationship," added Tillerson.
However, he acknowledged that these stimuli do severe even two-way conversation with the observance of "polite tone".
"That's why we work hard for this and we hope to begin to solve some of these issues," he added.
Tillerson said that after yesterday's phone conversation, Donald trump, Vladimir Putin together with the Minister of foreign Affairs of the Russian Federation Sergey Lavrov will continue to work on in order to determine whether the two countries to deepen cooperation with regard to the situation in Syria. In particular, it concerns whether it will be possible for both countries to reach a lasting ceasefire in the country to start the peace process.
"I don't want to say that we have a good start on that, because in the very early stages. I don't know what we get," said Tillerson.
He added that there is still a lot of work in relations with Russia. In particular, according to Secretary of state, the US and Russia can begin with cooperation on some small issues and then to look – whether the country together to work on more significant issues.
"If we can find a space, and suddenly understand that we will be able to start restoring some degree of confidence, because today, between us there is almost no trust… If we can restore a level of trust, we have a long list of issues for cooperation, from arms control treaties that we have about our agreements on nuclear weapons… it is obvious that the transition towards Ukraine and Crimea, and other regions in respect of which Russia is not particularly constructive today. That is why we hope that we can begin to build the path where we learn to cooperate with each other. I don't know of it or not. We intend to find out," concluded Tillerson.
Comments
comments