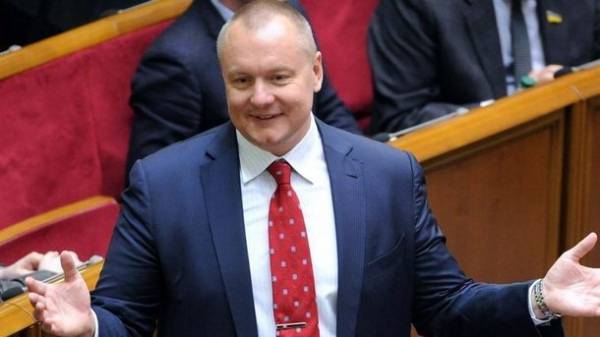 People's Deputy Andriy Artemenko, which has deprived the Ukrainian citizenship, said that no matter what would not change Ukraine.
This is stated in his statement on the page in Facebook.
"Ukraine will not trade for anything! And do not give anyone! Even despite the screams and cries of unicellular! "Zradu" will look in your butt! Those who know, know what I mean." – posted by Artemenko.
"Not from a great mind people pour s**t Mr. others, and just what their s**t but splashing over the edge. Long set up a fishing rod, long lure! Finally, the fish grabbed the bait! Left to strike! And in the frying pan, into the furnace of history! Friends! We'll meet again. Will meet again! Always yours! Always with you!" he added.
As reported, in February 2017, the New York Times reported that Artemenko was transferred to the administration of U.S. President Donald trump prepared a plan for resolving the conflict in Eastern Ukraine. The plan specifically provides for the holding of all-Ukrainian referendum on the transfer of Ukraine's Russian Crimea "in the lease for a period of 50 to 100 years" and "the withdrawal of Russian troops from Eastern Ukraine".
Prosecutors are investigating criminal proceedings against Artemenko for anti-state action in cooperation with the Russian Federation.
20 Feb faction of the Radical party, Oleg Lyashko decided to exclude Artemenko Deputy from among its members.
Artemenko – the initiator of the draft law on amendments to the law on citizenship of Ukraine on dual citizenship.
The Prosecutor General of Ukraine Yuriy Lutsenko said that Artemenko documented the Prosecutor's office that has a canadian citizenship in addition to Ukrainian citizenship: "one of the interrogations, he stated that he is a canadian citizen. To the surprise of the investigator, can he confirm that, he said, of course, next time I'll bring the documents." In this Lutsenko showed reporters a copy of the canadian passport of the MP.
April 21, the Prosecutor General's office of Ukraine appealed to the Minister of internal Affairs of Ukraine Arsen Avakov with a request to initiate through the State migration service, the procedure of loss of citizenship of Ukraine people's Deputy Andrey Artemenko.
Comments
comments