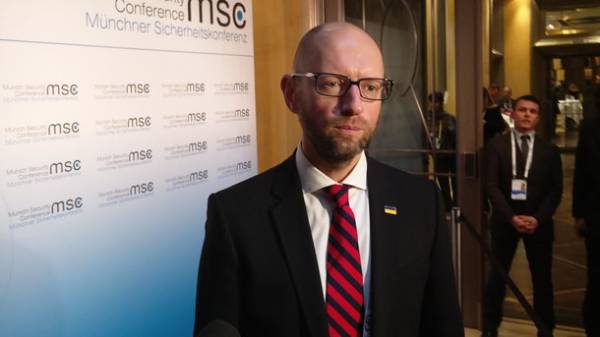 The leader of the party "people's front", former Prime Minister of Ukraine Arseniy Yatsenyuk considers the intention of the Russian Federation to declare him on the international wanted list as revenge for his anti-Russian stance, as the position of the head of the Ukrainian government and as the head of political power.
"The Russian Federation can not forgive what I decided about filing a claim with the European court of human rights against the Russian Federation… I have decided on the adoption of the law on sanctions and the President respectively have imposed sanctions against Russians and international position as in the position of Prime Minister, and the position for the leader of the political party, remains very clear, Pro-Ukrainian and anti-Russian," – said Yatsenyuk.
In this context, he stressed that "the whole Russian machine trying to discredit the Ukrainian government and to pursue those political figures who act against Russian aggression".
Yatsenyuk added that the decision of the Russian Interpol is "part of a Russian plan to discredit and persecution of those opposed to Russia."
Earlier in the day it became known that the Russian Federation has addressed in the Interpol with the request to declare the international wanted list of former Prime Minister of Ukraine Yatsenyuk.
In turn, the head of the MIA of Ukraine Arsen Avakov has appealed to Interpol with a letter of the groundlessness of accusations, voiced by the Russian side. In particular, according to the press service of the DIA, Avakov in his letter assured the Secretary General of Interpol that Yatsenyuk had never been to Chechnya, did not participate in any armed conflicts, Russian investigators specified period lived, studied and worked at the place of his birth on the territory of Ukraine.
As reported, on March 27, Yatsenyuk said that Essentuksky city court of Stavropol territory has considered the petition of the Investigative Committee of the Russian Federation about his arrest for participating in an armed group and attempted crime of intentional homicide, but declined to give the General Consulate of Ukraine in Rostov-on-don its decision on this issue.
Comments
comments