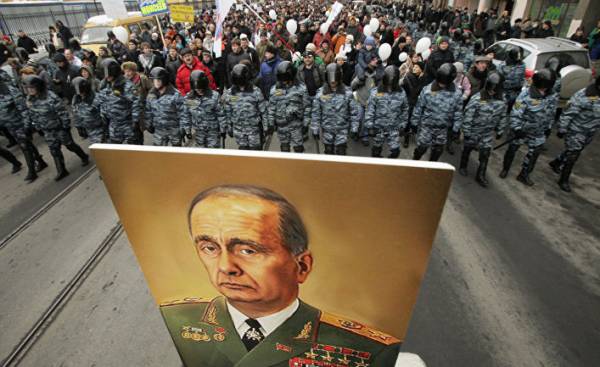 When Donald trump won the presidential election in the United States, one of the famous Russian journalists, wrote on Twitter: "I'm extremely happy. I want to attach to the machine the star-spangled banner and ride all night." This is how Russia and President Putin greeted President of the trump.
Earlier Vladimir Putin worked in the KGB. When he served in East Germany, the Berlin wall fell. Also Putin is a staunch hater of revolutions. When in Russia, a wave of anti-government demonstrations, the Russian leader began to suspect Hillary Clinton, who was then the US Secretary of state, that it with the help of American agencies incited the crowd.
Defeat Hillary Clinton, the US citizen, which most hate in Russia, the election has brought great joy.
At the same time Russia considered trump is the perfect candidate. The fact that he did a lot of good for Putin's statements. The main enemy of the USA — "Islamic state" (banned in Russia — approx. ed.). In order to fight with ISIS, need to cooperate with Russia. You should also weaken the anti-Russian sanctions.
However, if we analyze the history of relations between Russia and the United States, it is possible to find many similar aspects. This is especially true for the last three American presidents. They first tried to fix relations with Russia.
President Obama called it a "reboot". Nevertheless, Russia certainly creates some problems. As a result, in bilateral relations stagnate. This happens every time, when America elected a new President. I assumed that the same thing will happen with trump.
Now Putin became similar to the General Secretary of the USSR Leonid Brezhnev, isn't it? Putin has been in power for about 20 years; the society is stagnant; staff funneling abroad; therefore, the government is trying to divert the attention of Russians from the internal situation due to external threats. All these aspects coincide.
At the time, Brezhnev invaded Afghanistan. In turn, President Putin is acting on two fronts: Ukraine and Syria. President Ronald Reagan (Ronald Reagan) took Brezhnev by the throat with the help of "star wars." As President trump knows about the doings of Reagan, I guess he'll come up with some move against Russia.
In the age of Obama United States were strong, but the President was weak. And now is a strong country, a strong President. So I think that today Russia is not a rival of the United States.
Comments
comments