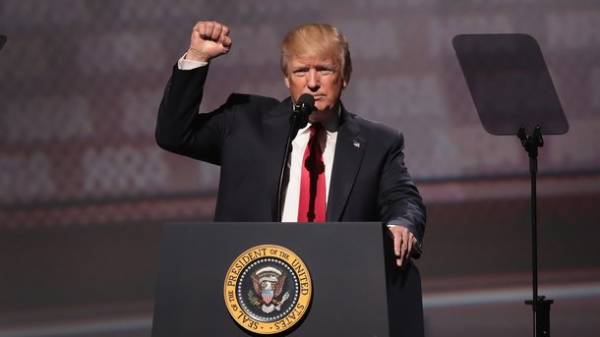 The US President Donald trump said in a weekly address that he considers a highly successful first 100 days of his administration.
"I think the first 100 days of my administration were among the most successful in the history of our country", — said the head of the White house. In his opinion, the US is on the rise, and "the rise fast". The administration in Washington, as suggested by the President, "fighting for American workers".
Their achievements trump considers the creation of new jobs, "a profound change in Washington" and the rejection of TRANS-Pacific trade partnership (TPP), which according to him will not allow you to trade the interests of American workers. In addition, he mentioned the appointment of a judge of the Supreme court's conservative Gorsuch of the Nile, and noted that he saved more than $ 700 million, achieving from Lockheed Martin's reduction in the price of the latest F-35 fighter.
"We will again be competitive and a great country," trump promised to voters.
Earlier, the leader of the democratic minority in the Senate, Chuck Schumer said that the President of the United States has not fulfilled its own promises in first 100 days of the administration, as it has not achieved any of their initiatives. He also criticized the plan to reduce taxes submitted by trump this week.
Comments
comments