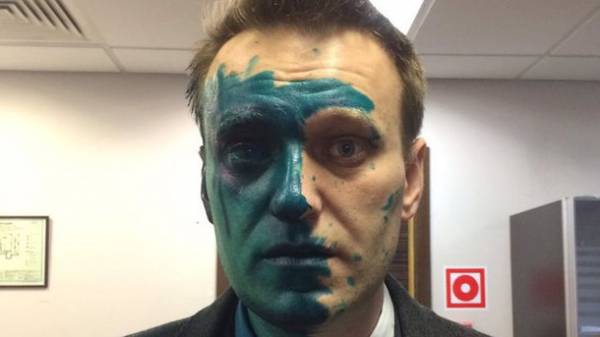 Opposition leader Alexei Navalny in an attack by unknown splashed him in the face with green paint in Moscow, received a chemical burn of the eye.
"In the First city (the hospital) put "a chemical burn of the right eye". Pretty nasty stuff – hard to numb, and his eyes blazing with infernal fire, but still not opened", – Navalny wrote on the website.
Press Secretary of the opposition Kira Armys Armys earlier reported that the attack occurred on Thursday in Moscow, near the world trade Center. According to her, people expecting Navalny near the car, splashed his face with green paint and ran. In the attack of the green paint was splattered face of opposition, the affected pupil and the cornea of the right eye. After the attack he was taken to the hospital by Ambulance.
"Now take a taxi and go to the office," – said A. Navalny on the evening after the visit to the hospital.
According to the Armys, the opposition intends to ask the police to investigate the assault.
Comments
comments