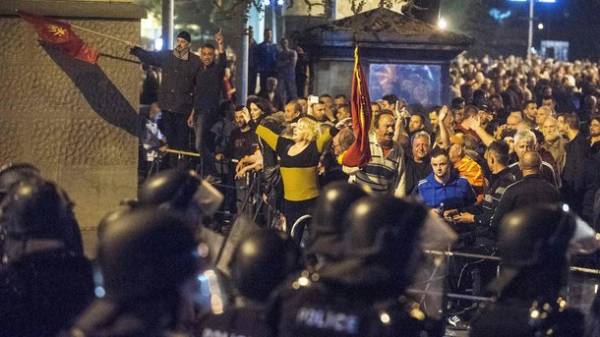 A special unit of the interior Ministry of Macedonia late in the evening had surgery for the release of deputies, which was blocked in the press center of the Parliament of the Republic of the protesters of the movement "For a United Macedonia".
"At 20.27 the staff of the special units entered the Parliament of the Republic of Macedonia and to 20.43 evacuated 30 deputies. During the incident, according to the interior Ministry were wounded 10 police officers who prevented the demonstrators to enter the Parliament. In Skopje meets the operational headquarters of the interior Ministry", — stated in the message Department.
Protesters on Thursday entered the building Assembly (Parliament) of the Republic after the election of the speaker of ethnic Albanian Talat Xhaferi and beat opposition leader Zoran zaeva and several deputies of his Social democratic Union of Macedonia (SDSM).
"Fighters of the police special forces took the MPs of SDSM and the new Chairman of the Assembly of Talat Dzaferi that were blocked in the press center since then, the demonstrators entered the building of the Parliament", — reports news portal "Sakas da Kaja".
It is noted that around the press center hangs a smokescreen, after the riot police used smoke bombs. On the published photos you can see the smoke, and police officers in flak jackets and other gear.
Clarifies that wounds during the incident with the protesters received Zaev, damjan Manchevski and Albanian Deputy Ziyadin Village.
Earlier, the leader of the opposition Social democratic Union of Macedonia (SDSM) Zoran Zaev told President Gjorge Ivanov, more than half (67 of 120) signatures of members of Parliament and sought a mandate to form a new Cabinet of Ministers.
In an open letter to world leaders, Ivanov said that, according to him, the implementation of SDSM's platform involves changes in the Constitution of the Republic of Macedonia, which would jeopardize the unitary character and the sovereignty of the state in the interests exclusively of the Albanian national minority, and therefore he refused Zaev in the mandate.
Comments
comments