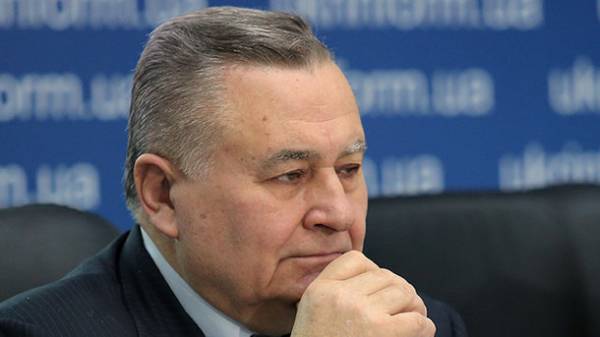 Russia will not agree on the fundamental front in the attack on Kiev, but can provoke the Ukrainian authorities on the introduction of martial law, which would mean a Declaration of war on Russia. This was on the sidelines of the II Ukrainian forum on defense and security, told "Today" the representative of Ukraine in the security subgroup of the Trilateral contact group Yevhen Marchuk.
"Russia can not go to a full attack, but it can provoke (Ukraine – Ed.). We know what today is Russia is a land corridor to the Crimea. This means Mariupol, etc. And this was planned and not concealed. And we know – Turchinov said about this and the military knows well, that Russia has concentrated serious military structures on the border with the us. When, for example, starts on the border of intense military conflict, the intensification of the military don't know is it a provocation or the beginning of the offensive? And on the Russian territory hospitals tightened to the border, not on our… When a large group is on the border with the offensive structure, with offensive military equipment, without aircraft, tanks, artillery, etc. and tightened hospitals that already, they did such a thing, three field hospital right on our border… For a military professional it is clear that preparing for something that they provide a lot of wounded," explained Yevhen Marchuk.
According to him, it can be the small action of a military nature, which will be on this direction, maybe even on both sides with Crimea through Kherson, and from the North through Mariupol.
"If our military, for example, reported to me by night: began serious action with signs offensive and even attacks from both sides. And in the morning they can be activated, etc, no frontal attack, but there are forms that can provoke Ukraine's political leadership on making the right legal decision on introduction of martial law in the Ukraine, and not only in the occupied territories, and in this area is from Kharkov to Kherson and Nikolaev. Because we have been taught. And then Russia will back down, " – said Marchuk.
The law States that martial law is introduced, when there is aggression. "But aggression is a foreign country. And even when there are signs and threats of aggression. In this case, you specify a country-aggressor… Not Zakharchenko as the aggressor or Carpentry. And Russia have treats, if there would be martial law it will mean that Ukraine declared war on Russia. In fact, from the point of view of international law is not true. Russia will not agree on the fundamental front in the attack on Kiev, but can provoke the Ukrainian power", – summed up Marchuk.
Recall that in the case of the introduction of martial law in Ukraine, the army is ready to quickly deploy troops for combat missions, said Deputy Minister of defense of Ukraine Igor Pavlovsky.
Comments
comments