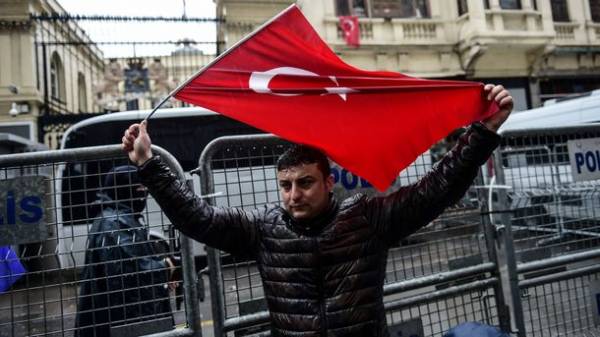 The demonstrators hoisted on Sunday the Turkish flag at the Dutch Consulate in Istanbul to the place of the flag of the Netherlands. On it informs Agency AFP.
Earlier it was reported that Turkish police blocked the entrances and exits to buildings of the Istanbul embassies of the Netherlands, for security reasons.
VIDEO: Man raises Turkish flag at the Dutch consulate in Istanbul https://t.co/ueuPESYwm1 pic.twitter.com/EO3lgjeHAc
— Hürriyet Daily News (@HDNER) 12. März 2017
On Saturday, the Minister of family and social policy of Turkey Fatma Betul saillant Kaya arrived in Rotterdam by car from Germany to hold a campaign rally to bypass the decisions of local authorities. Law enforcement authorities denied her the opportunity to speak to the demonstrators and also blockaded the entrance to the Consulate building. The Dutch authorities declared her an undesirable alien. Kaya, accompanied by Dutch police and were deported to Germany, where he returned to Turkey.
The Supreme electoral Council of Turkey has appointed on April 16, the date of the referendum on a package of amendments to the Constitution of Turkey, which change the form of government from a parliamentary to a presidential one. Constitutional changes in the transition to a presidential system was approved by the Turkish Parliament and signed by President Recep Tayyip Erdogan
Earlier, Erdogan accused the German authorities that they used "fascist methods", prohibiting members of the Turkish government to conduct a propaganda campaign on its territory. The German government stated that the meetings were canceled by the local authorities for security reasons
Federal Chancellor of Austria, Christian Kern has called for a ban on the conduct of Turkish policy, awareness-raising campaigns in all EU countries
Comments
comments